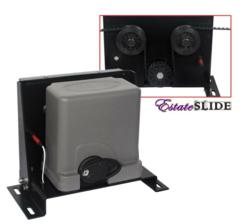 Tampa, FL (PRWEB) August 31, 2012
Starting September 1st, Estate Swing gate openers is releasing into full distribution the first belt driven sliding gate opener. The sliding gate opener by the model name Estate Slide E-SL 450BD has been out on limited distribution and has proven to be a success. Initial sales have been through online avenues such as GateCrafters.com and eBay.
What makes this gate opener different from all others is the use of a belt drive system. Previously there were two options for sliding gate openers to interact with a driveway gate: chain drive or rack and pinion. Chain drive was the standard solution that offered a flexible installation, however typical draw backs were the chains are greasy, noisy and frequently come off of their gears. Rack and pinion, a choice made popular in Europe, operates with a toothed bar that interacts with a motorized gear. This produced a clean, quiet, low maintenance operation. However, the installation procedure requires a gate that can mount a level, stable rack along the entire bottom.
The belt drive system developed by Estate Swing uses the concept of attaching to a driveway gate like a chain but has the noiseless operation and low maintenance of a rack and pinion system. The belt attaches to brackets on each end of the driveway gate. It runs over an idler, under the mechanized gear and over another idler. This is the same installation as chain. Judy, a top sales rep at GateCrafters.com, says, Feedback from my regular installers is this is a familiar installation so it is not like learning a new product. But their clients are much happier with the absence of noise and the clean look.
Using a belt instead of a chain is not a new concept. In the automotive industry this change was done long ago. Much like steel belted radial tires, which have been the standard in tire construction since the early 70's, this belt has a mesh layer of woven steel in between the two rubberized outer layers. The durability of steel belted design is achieved mainly from the way the steel mesh works to increase the rigidity of the belt. This helps to spread the load and friction over a greater surface. Also the outer layers have UV protection infused in the material to prevent cracking and degrading from the sun.
For additional information on distribution of the Estate Swing belt drive automatic gate opener, contact David Rivera at Estate Swing, a brand of Sequoia Brands, Inc. For retail purchase visit http://www.gatecrafters.com, http://www.amazon.com or http://www.sears.com.
About Sequoia Brands, inc:
Sequoia Brands, inc. is a Florida corporation that owns and manages multiple specialty brands including Estate Swing gate automation and access control equipment.