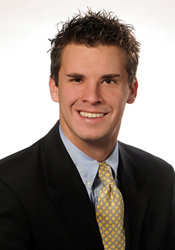 LENEXA, Kan. (PRWEB) April 02, 2015
After conducting a nationwide executive search led by healthcare leadership solutions firm B. E. Smith, Estes Park Medical Center in Estes Park, Colo., has hired Ryan D. White as Chief Financial Officer. A skilled healthcare finance leader with over 10 years of experience, Mr. White will assume his new duties on April 20, 2015.
Ryan brings extensive experience leading financial strategy at critical access hospitals, with a dedicated focus on improving productivity and efficiency, as well as a strong commitment to patient care, said Brian Herwig, Chief Executive Officer at Estes Park Medical Center. We are excited to have someone with Ryans healthcare finance expertise joining our senior executive team.
Formerly, Mr. White served as Senior Manager at Eide Bailly LLP in Denver, Colo. In this role he provided interim CFO services to several community hospitals as well as advising clients on revenue cycle, physician alignment, third party payer contracting, reimbursement and designing innovative care delivery and payment models to transition to providing value-based care. Previous leadership positions include Senior Associate at Dixon Hughes PLLC in Winston-Salem, N.C., and Finance Analyst at Bon Secours Health System in Richmond, Va.
Estes Park Medical Center was seeking a dynamic healthcare finance executive with a proven track record of developing collaborative relationships with physicians and the financial community, said Mick Ruel, Vice President of Executive Search for B. E. Smith, the healthcare executive search firm who conducted the nationwide CFO search for Estes Park Medical Center. Ryans experience and leadership style were the perfect fit.
Mr. White earned a bachelor of arts in economics from the University of Virginia in Charlottesville, Va. He is a member of the National Rural Health Association (NRHA), Healthcare Financial Management Association (HFMA) and American College of Healthcare Executives (ACHE).
About Estes Park Medical Center:

Estes Park Medical Center is a 25-bed critical-access hospital with a 24-hour emergency department, 24-hour Advanced Life Support ambulance service, medical/surgical services, obstetrics, and home health and hospice services. EPMC has served the Estes Valley and surrounding areas since 1975, and is designated as a Level IV Trauma Center. EPMCs physicians are board-certified in many different areas and specialties. EMPC has a full-service laboratory, diagnostic imaging department and a 60-bed nursing home, and provides services to the residents of and visitors to our beautiful valley. We are a community-initiated and community-nurtured organization dedicated to promoting wellness and providing the highest level of quality healthcare that ensures the confidence and loyalty of our patients. For more information about Estes Park Medical Center, visit https://www.epmedcenter.com/.
About B. E. Smith:

Founded in 1978, B. E. Smith is a full-service healthcare executive search firm and the top-ranked provider of senior-level leadership services including Interim Leadership, Executive Search and Advisory Services. Veteran healthcare recruiters and regional healthcare experts partner with each client to create customized solutions. B. E. Smiths proven methodology has resulted in the recent placement of more than 900 leaders into healthcare organizations worldwide. The firm utilizes a comprehensive sourcing strategy incorporating the latest marketing techniques, association partnerships, social networking and one of the largest databases of skilled senior-level healthcare finance executives in the industry to deliver immediate results in todays complex healthcare environment. For more information, visit BESmith.com or call 855-254-8261.