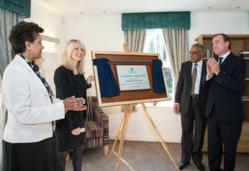 Surrey (PRWEB UK) 20 September 2012
On the 19th September 2012, under the auspices of Esther McVey, newly appointed Parliamentary Under Secretary of State for DWP and Minister for Disabled People, CHD Living and Ascot Rehab hosted a formal opening ceremony of its new Neurorehabilitation Centre, Ascot Rehab at Bagshot Park.
The centre, which enjoyed its soft opening in November 2011, is the latest addition to CHD Livings thriving care and hospitality organisation. Offering specialist rehabilitation, treatment and care to patients suffering from a Brain Injury and people with cognitive and physical disabilities, the centre has a particular focus on exceptional rehabilitation. The multi disciplinary team prides itself in providing personalised rehabilitation to facilitate people with disabilities to return home with as much independence as possible.
Esther McVey MP, in her address at the opening ceremony, spoke of a former resident, Peter Stewart who showed her around the centre. Peter explained to the Minister, how, after having had a fall and broken his back the sessions in the Gym and Hydrotherapy Pool at Bagshot Park had been instrumental in his recovery from being completely unable to walk to now being able to walk with a frame and to independently transfer from wheelchair to chair. The Minister acknowledged how, as in Peter's case, a fall down the stairs could happen to anyone of us.
The Minister referred to the centre as a truly 'state-of-the-art' centre for excellence in rehabilitation and how wonderful it is to see how people with disabilities are being encouraged and empowered to live as independently as possible. The Minister complemented the role that the team at Ascot Rehab at Bagshot Park plays in supporting people who have an impairment and the great job that the team is doing to give people the best quality of life and achieve their full potential.
The Optimal Rehabilitation Program at Bagshot Park caters for inpatient care for PCT patients from within NHS hospitals and private patients through private consultant referrals. The local community also benefits from its dedicated Outpatient Centre. This Centre, with state-of-the-art equipment, Physiotherapy and Hydrotherapy Suites offers a Multidisciplinary approach with expert Physiotherapy, Occupational therapy, Neuropsychology Speech therapy and Information Technology services. All these services are provided under the supervision of leading consultants in Neurorehabilitation and a dedicated multidisciplinary team; making Ascot Rehab at Bagshot Park a unique centre for rehabilitation.
Peters Story

Peter Stewart, former resident, and his wife, tell us: Peter didn't feel he was in a home for rehabilitation. It was almost like being in a hotel, which was lovely. Peter tells us that: I was completely immobilized when I arrived here, I couldn't sit up on my own, I couldn't get out of bed, I couldn't walk I really did need extensive care. I was completely dependent on the team; they really took me along the right path. They were encouraging I could see the empathy the staff had – they really cared. There wasnt much I could do but there was so much they did for me. They really motivated me. I owe a lot of credit to the staff here – Im more confident, I got so much motivation and praise, and now I am back home living with my wife which is all I could have ever hoped for.
Tim Dodds, Former Mayor of Surrey Heath said: We toured the centre and were immensely impressed with the facilities and staff. Its the spaciousness and quality feel to the centre that is a lasting impression, as is the focus on rehabilitation.
About Ascot Rehab at Bagshot Park

Ascot Rehab at Bagshot Park offers 31 luxurious private suites equipped with flat screen televisions, complementary WiFi, personal fridges, Tea and Coffee making facilities and full en-suite facilities. The centre also benefits from eight step-down transitional Apartments designed to help guests get back on their feet and back home as quickly as possible. Other five-star amenities include a dedicated residents computer suite with SKYPE and Email, flat screen televisions, custom-made furniture and d