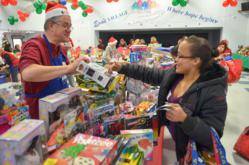 Paterson, New Jersey (PRWEB) December 24, 2012
On December 12th the kitchen at Evas Village was turned into a Holiday Shoppe full of toys, stuffed animals and books. This year was the fourth year Evas Village has organized this campaign to provide toys to the children at Hope Residence and the children of those living in their shelters and treatment programs. The Holiday Shoppe was stocked by the generous donations of corporations, foundations, churches, individuals and families. This year the Shoppe was sponsored by the New York Lady Giants. In addition to a monetary donation the New York Lady Giants helped sort toys, man the Holiday Shoppe and wrap presents for the children of Hope Residence. We had an amazing time volunteering at the Holiday Shoppe at Eva's Village," stated Rosalie Boothe. "This is an incredible place and we were truly humbled to be a part of this program. Everyone we met, both the clients of Eva's and staff, were inspiring in so many ways."
Our intention was to create a volunteer and client-shared opportunity through the Holiday Shoppe concept, stated Donna Fico, Evas director of marketing & education. Volunteers, including the New York Lady Giants, donated gifts and assisted with running the Shoppe, while clients then received a nice evening visit to the Shoppe to pick out gifts for their children.
Over 300 children were helped through the effort. All children should feel the excitement of opening presents placed under the Christmas tree and because of the many who donate to Evas, the children of our clients get to experience this wonder and joy as well, states Marie Reger, executive director. Our Holiday Shoppe allows parents, not able to purchase gifts for their children at this troubled time in their lives, to choose from a wide array of gifts donated.
My thoughts are at ease, my mind is at rest, stated Michael, a client in Evas Halfway House for Men. This is because of the help from Evas with gifts for my loved ones. I didnt think I myself could make Christmas a special day this year for my children. Thank you with a great deal of appreciation.
Donors looking for holiday charitable giving opportunities will also be pleased to know that Evas Village holds six consecutive 4-star ratings from Charity Navigator (http://www.charitynavigator.org/). Ken Berger, President & Chief Executive Officer, Charity Navigator says, This exceptional designation from Charity Navigator differentiates Evas Village from its peers and demonstrates to the public it is worthy of their trust.
Originally a New Jersey soup kitchen, Evas Village was founded in 1982 by Msgr. Vincent E. Puma in response to the increasing incidence of homelessness in Paterson, NJ. But Msgr. Puma soon realized that another New Jersey soup kitchen was not enough. With the generous support of thousands of donors and private and government grants, Evas Village has grown into the most comprehensive anti-poverty program in New Jersey, providing food, shelter, recovery programs, free medical and dental care and transitional and affordable housing, plus opportunities for education, job counseling and more.
To donate to this NJ Charity, or for more information about Evas Village, call (973)-523-6220, go to http://www.evasvillage.org or write to: Donna Fico, Director of Marketing & Education, Evas Village, 393 Main Street, Paterson, NJ, 07501.