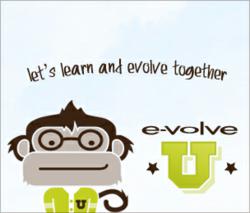 (PRWEB) January 15, 2013
While the Web is open-source, it can be overwhelming. SEO, pay-per-click, social media, email, desktop, mobile its a lot to handle. Enter Evolve U, a brand-new, dynamic educational experience recently launched by Evolve Creative Group, an Akron, Ohio-based Web design and online marketing company.
Evolve U delivers on Evolve Creative Groups commitment to continuing education, and differs from similar resources by covering just about everything related to the online marketing channel in both written and video formats. In addition, all content is available for free and created by experienced industry professionals.
Education and learning are important parts of any industry, and we work in one where even the most basic technologies and standards are constantly changing, said Todd Bertsch, owner and president of Evolve Creative Group. Its an industry you literally cant afford to fall behind in. So when I say Evolve Creative Group keeps up on the latest and greatest Web technologies, its not lip service. For us, education and evolution arent concepts we bring up casually theyre mantra and mission.
A veteran collegiate-level educator, Bertsch said education is a core value hes worked to infuse into his business since inception, and Evolve U is a natural extension of that effort. He said staff members dedicate consistent hours to research and development, making them uniquely qualified to handle the rigors of producing up-to-date, meaningful, thought-leading content on a weekly basis. The overall effort will also accommodate content produced by other industry experts, making the educational experience provided by Evolve U a true community effort.
At Evolve, were not only really focused on educating ourselves, but also our clients, Bertsch said. Its in our name; its what Evolve has been based on, and its only natural to want to pass that knowledge on to others. My hope is that users will treat Evolve U as a type of online university, using it to enhance their own learning and education. It really is in the name. Evolve U is here to help evolve you.
For more information on Evolve U, visit blog.evolvecreativegroup.com. To view a short video of Bertsch explaining the concepts behind and creation of Evolve U, visit What is Evolve U?
About Evolve Creative Group:

Evolve Creative Group provides customized award-winning web solutions to the Akron, Canton and Cleveland, Ohio areas. Led by founder Todd Bertsch, the company has won multiple awards for its creative ingenuity and compelling designs. With a team of passionate web designers and developers, Evolve offers a full-suite of creative services including web design and development, mobile web design, SEO, eCommerce, video production, paid search marketing, email marketing and social media marketing.
For more information, visit http://www.evolvecreativegroup.com