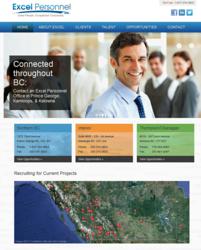 Kamloops, British Columbia (PRWEB) April 16, 2013
Talent and technological innovation drive productivity. And as such, this drive enables companies to have a competitive edge. This is exactly why Excel Personnel, a premiere employment agency in British Columbia, chose ROI Media Works to develop a high-calibre digital marketing strategy. As a full-scale digital marketing agency that also focuses on web development and design, ROI Media Works worked on overhauling the employment agencys outdated website and maximizing search engine optimization capabilities. The end-result has been an updated website and top Internet rankings that have directly resulted in winning more clients.
At Excel Personnel, we are an employment and recruitment partner to many of Canada's most recognized businesses. We match top talent, with top opportunities, said CEO of Excel Personnel Karen Watt. We chose to work with ROI Media Works because they were recommended to be the masterminds of SEO in the Okanagan they are the best in the business.
Being quickly searched by both employers and candidates, online marketing helps industries like employment agencies specialize, form a strong identifiable brand, and sets them apart from competitors. Being found easily on the web, speaks to the promise of the level of service and the experience that can be expected by a company and furthermore enforces trust.
We provide a multitude of services and regularly evaluate our online marketing offerings to ensure that we stay on the cutting edge of digital marketing industry. As the pace of technology increases, our clients, representing a broad spectrum of industries, have come to expect more from us, explained CEO of ROI Media Works, Krishna Lakkineni. Through our commitment to expanding our Internet marketing services and our efforts to keep pace with new technology, we are able to meet these rising demands.
What sets us apart is the client-centric approachwe focus a ROI driven, higher level of personalized service that we are prepared to offer in order to build the kind of long-term relationships we seek with our clients."
About ROI Media Works

ROI Media Works represents a wide range of business clients, including local service providers, e-commerce sites, business-to-business companies, and business-to-consumer retailers. The Okanagan Company offers Search Engine Optimization (SEO), Pay Per Click (PPC) advertising, social networking, email marketing, reputation management and web design, providing clients with rapid, effective Internet marketing. For more information about website design and Internet marketing services, visit http://www.roimediaworks.com.
About Excel Personnel Inc.

For over 21 years, Excel Personnel has been at the forefront of the Northern, Central and Southern BC employment and recruitment industry. Specializing in Executive Search, Temporary, Permanent, Contract & Payroll positions from Ontario to BC, the company has recruited and assisted 23,876 candidates. With a unique combination of expertise, insight, creativity, and customized personal service, Excel Personnel consistently makes great matches between employees and employers. Located in Kamloops, Kelowna, Prince George and Vancouver, the people-focused agency caters to the diversified needs of a growing clientele. For more information, visit http://www.excel.bc.ca.