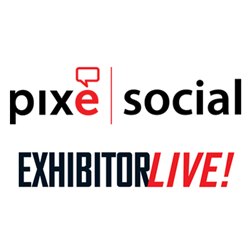 Columbia, MD (PRWEB) February 24, 2015
Pixe Social, the Maryland-based start-up and developer of smart social marketing solutions, announces its partnership with EXHIBITOR Magazine for the EXHIBITORLIVE Show to be held March 2-5, 2015 in Lav Vegas. This year, Pixe Social is participating in a number of Show events including sponsorship, exhibition partnership, the New Product Show, and a featured speaking session with CEO, Rajiv Jain.
For the third year in a row, Pixe Social will power the official social photo sharing solution at EXHIBITORLIVE. Event attendees and exhibitors are invited to see themselves on the cover of the EXHIBITOR Magazine using Pixe Socials innovative green screen technology. The photos will be shared with online fans on Facebook, Twitter, and Instagram in real-time, as well as displayed on a live, rotating slideshow on an HD digital screen. Visitors may also provide their email address to enter for a chance to win an iPad mini 3 for the photo that receives the most likes on Facebook, click here for contest Terms and Conditions.
Pixe Socials recently launched consumer app solution, Pixe Snap, a state-of-the-art engagement app, is being featured in the EXHIBITORLIVE New Product Showcase (NPS). The NPS is recognized as the launching pad for some of the exhibition industrys most innovative new products, including the 2014 winner of the Buyers Choice Award, Pixe Encore.
Rajiv Jain, CEO of Pixe Social and Bill McGlade, Director of Account Management for a2z Inc., will be co-presenting a session, entitled Engage a Younger Audience with Digital and Social Media on Thursday, March 5, 2015. This session will give attendees leading techniques to engage younger audiences at events and tips of how to encourage individuals to amplify an events digital presence through user-generated content.
Event attendees are invited to visit Pixe Socials booth 1271 to learn how Pixe Encore and Pixe Snap can provide engaging attendee experiences and capture treasured guest moments. The Pixe Social photo-sharing solutions have contributed to boosting the viral reach of many leading brands, including CeX at MCM London Comic Con, LVCVA, GES, and EXHIBITOR Magazine.
Booth visitors will have the option to sign up for an exclusive show special and learn about an exciting new pricing model to instantly maximize their brands online engagement.
About Pixe Social

Pixe Social is a Maryland-based start-up providing turnkey social marketing solutions that is on a mission to take the challenge out of social media marketing by converting audiences into brand ambassadors. Winner of the 2014 Buyers Choice Award at EXHIBITOR 2014, Pixe Socials solutions have the unique ability to extend a brands online community and boost social presence in a matter of days. To learn more about Pixe Social, visit http://www.pixesocial.com.
About EXHIBITORLIVE

EXHIBITORLIVE is the #1 Conference and Expo for Trade Show and Event Marketing Professionals from all industries and all experience levels. Host to over 180 comprehensive sessions and workshops, attendees discover how to transform smart ideas into high-performance exhibit and event programs. For more information about EXHIBITORLIVE, visit http://www.exhibitoronline.com/live/2015.