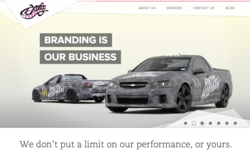 Carrum Downs VIC (PRWEB) October 24, 2012
Exotic Graphix an industry leader in car wraps, is pleased to announce their online partnership with True Blue Websites, leaders in small business web design. As part of our growth strategy, True Blue Websites will be improving our rankings on Google through Search Engine Optimisation .
The decision to move forward with True Blue Websites came as our company, Exotic Graphix, realized the potential for growth through being where potential clients are which is clearly at the top of Google.
"As a company that specialises in wrapping cars in graphics, it's pretty important for Exotic Graphix to be at the top of Google for 'car graphics' " says Nick Caminiti. We needed a company who understand what it would take for us to reach the top and provide us a clear and concise path that took us to success. That was found in True Blue Websites.
Google is of course changing their approach to how they list search results. In the last couple of years, Google has rolled out changes that have dramatically impacted a number of websites. From Panda to Penguin, True Blue Websites has taken their understanding of SEO and evolved it to better suit the needs of their customers. This is one of the reasons why choosing them for their SEO was important to Exotic Graphix.
Because our business focuses on everything from jet skis to motorbikes and cars, having information on our website that doesnt penalize us, but remains relevant can be a tricky balance. Google is designed to pick up on websites that are using irrelevant keywords and place them lower in search engine rankings. This is why we needed to find a company who understood these changes and would be able to deliver high quality content that remains relevant and help us to reach number one in the search engines.
As we move forward, we are excited to watch the partnership between Exotic Graphic and True Blue Websites continue to grow.
About Exotic Graphix:
We are a vehicle graphics company who pride ourselves on quality. With a state of the art studio and quality products, we remain a company that is trusted by clients across the globe.