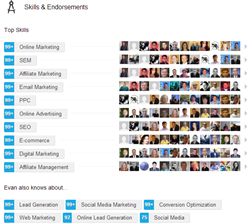 Fort Lauderdale, FL (PRWEB) May 27, 2014
Experience Advertising, Inc., a leading digital marketing and social media agency, has announced that their CEO Evan Weber will be personally be available for digital marketing consulting to all sizes of companies looking to grow their traffic and revenue. Evan Weber is a highly-regarded expert in all things online marketing and social media and will now be working directly with companies to take their internal digital advertising efforts to the next level.
Evan Weber started his career in the late 1990s with a free auction website similar to eBay and also selling vintage items and antiques on eBay. In late 2001 he joined a start-up ecommerce company in the health space, called DentalPlans.com, where he was responsible for driving website traffic, building partnerships, and maximizing revenue. After helping grow the company's revenue exponentially year or year, Weber left the company in 2007 to form his own digital marketing agency and pursue ecommerce projects of his own.
Evan is well-regarded in the online marketing industry as someone that is results driven and able to implement a comprehensive online marketing and social media strategy. Weber stated, I try to stay on the cutting-edge of all things digital marketing and social media, so I can impart what I know to my agencys clients. This allows my agency to deliver unparalleled value to clients, that other larger agencies aren't able to. Now, Im offering to personally work with clients internal staff to make them better, more effective online marketers for their companies. Sometimes, companies dont want to outsource their digital marketing and social media to an agency, so I will now be able to help their internal teams become rock star digital marketers and social media managers. I couldn't be more excited!
Some of the areas that clients of Experience Advertising can utilize Evans vast experience and frame of reference are in the following areas:

Search Engine Marketing Strategy – SEO and Paid Search (SEM)
Social Media Strategy – growing social networks and creating more engagement
Social Media Advertising Strategy – effectively utilizing social network advertising
Email Marketing Strategy – best practices for email marketing to generate revenue
Visitor Remarketing Strategy – increasing sales through behavioral retargeting
Website Audits – website feedback and website performance strategies
Comprehensive Online Marketing Strategy – developing an overarching web marketing strategy
Customer Loyalty and Customer Retention – increasing customer spending and lifetime value
Customer Service Strategy – improving how customers are treated and interacted with
Conversion Rate Optimization – increasing the overall effectiveness of the website to capitalize on traffic and maximize revenue.
Affiliate Marketing Strategy – how to increase referral partners and increase revenue and ROI in the affiliate/partner channel
Evan Weber has over 10,000 LinkedIn connections, almost 200 LinkedIn recommendations, and 12 LinkedIn skills with more than 99 endorsements each, which is unparalleled in the online marketing industry. To learn more about how to work with Evan on digital marketing strategy and social media management, visit Experience Advertisings Digital Marketing Consulting page.