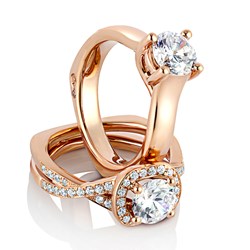 (PRWEB) February 11, 2014
Experience Advertising, Inc., a leading digital marketing agency, has just been signed by A. JAFFE as their agency of record (AOR), coordinating and managing all online marketing channels and social media advertising. Experience Advertising provides cutting-edge digital agency services for their e-commerce clients.
One of the only 19th century jewelers still active in New York City, A. JAFFE has thrived from an unwavering commitment to uphold old world standards of craftsmanship and to adhere to the arduous demands of meticulous diamond selection. Each A. JAFFE ring is perfectly crafted, seamlessly combining modern glamour with timeless elegance. Every A. JAFFE diamond is a rare gem. Their diamonds are exclusively sourced from the finest diamond mines in the world. Each A. JAFFE diamond can be matched perfectly to an elegant setting that enhances the beauty of the diamond and compliments the diamond with companion stones that can be set along the side. A. JAFFE is distinguished by its heritage of continuous contribution to the evolution of the American engagement ring, including the origination of some of the first luxury solitaire and multi-stone engagement rings sold in the United States. It remains today, an exclusive bridal brand distributed only by Americas finest jewelers who personify the highest standards of taste, integrity and business practices.
Experience Advertising, Inc. provides an array of essential e-commerce strategies and management in channels such as:

Search Engine Optimization (SEO) – increasing organic traffic
Google Adwords and Bing Ads Pay-Per-Click Management (SEM)
Social Media Management (Facebook, Twitter, Instagram)
Facebook Advertising – Building fans, Direct-to-site, Sweepstakes, and Contests
Retargeting – Targeted ads to non-purchasing website visitors
Comparison Shopping Engine Management
Email Marketing Management – monetizing email databases
Conversion Rate Optimization – boosting click-to-sale ratio on the website
Customer Referral Programs – increasing incremental revenue with social-based referrals
Mobile Marketing – Mobile site creations, Mobile-based advertising
Web Design – website design and ecommerce website building
Programming – all types of web and mobile development
CEO of Experience Advertising, Evan Weber, stated, We are thrilled to be selected as the digital marketing agency for A. JAFFE. This is an exciting niche and we look forward to aggressively marketing the company on the web and social media. Experience Advertising manages ecommerce companies and lead generation websites for several national and local companies such as: HancockFabrics.com, iHomeAudio.com, Phone.com, HookedonPhonics.com and more. If you are looking for a digital marketing agency with an ROI-focus visit Experience Advertising, Inc.