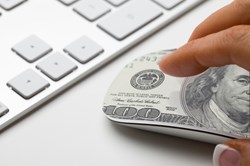 Fort Lauderdale, FL (PRWEB) December 02, 2013
Experience Advertising, Inc., a leading online marketing agency specializing in affiliate program management, has released their clients Cyber Monday promotions on the Commission Junction and Shareasale affiliate networks. Experience Advertising is one of the top affiliate marketing agencies managing affiliate programs on the top affiliate networks like CJ and Shareasale.
Cyber Monday is the busiest shopping day for consumers on the Internet, and the affiliate marketing channel always does well on Cyber Monday due to the surge in demand for ecommerce deals and promotions. 2013 is forecast to be the busiest Cyber Monday on record, and affiliate marketers will reap the benefits with more consumers flocking online to get great deals and promotions at their favorite retailers.
Commission Junction is the leading global affiliate marketing network, specializing in pay-for-performance programs that drive results for businesses around the world. The CJ Affiliate Network helps to reach and connect with millions of online consumers every day by facilitating productive partnerships between advertisers and publishers.
Experience Advertising, Inc. is a leading affiliate marketing agency, specializing in recruiting affiliate marketers and increasing sales through the affiliate marketing channel for ecommerce and lead generation websites. CEO Evan Weber stated, We are very excited to launch our Cyber Monday affiliate deals and promotions on CJ and Shareasale, the two most productive affiliate networks we work with.
In addition to affiliate marketing management services, Experience Advertising provides the following digital agency services: SEO, SEM (paid search management), social media management (Facebook and Twitter Advertising), conversion rate optimization, content marketing, email marketing, web design, customer referral programs, and mobile marketing. If you would like more information, please contact Experience Advertising.