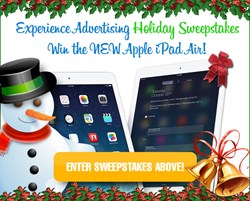 Fort Lauderdale, FL (PRWEB) November 08, 2013
Experience Advertising, Inc., a leading digital marketing agency, has launched their 2013 Holiday Affiliate Marketing Sweepstakes giving away the new Apple iPad Air to the lucky winner. Sweepstakes entrants need only like the Experience Advertising Facebook company page to enter. Entrants can also gain bonus entries by sharing the sweepstakes with their friends and tweeting about the sweepstakes.
Experience has been focused on the affiliate marketing channel for the last 7 years, and has been ranked the #1 best affiliate marketing company on TopSEOs.coms list of top affiliate agencies for the past 3 years consecutively. Evan Weber, CEO of Experience Advertising stated, We love running sweepstakes and contests for our affiliate marketers because its so effective at increasing Facebook page likes, tweets, and viral sharing. The winners are always so overjoyed with their prizes. Experience Advertising also educates their affiliate marketers on how to effectively run their own sweepstakes and contests, which can be seen in the following article. Weber went on, We are all about educating our affiliate marketers on how to build website traffic and increase their social media presence. Running sweepstakes and contests using tools such as Woobox.com is a very effective way to whip up excitement to any affiliates audience.
In addition, Experience Advertising has recently launched their complimentary guide for ecommerce companies to maximize holiday website traffic, social media marketing, and conversion rate optimization. The 2013 Multi-Channel Ecommerce Holiday Marketing Strategies Guide covers subjects including:

Search Engine Optimization (SEO)
Pay-per-click Search – Google Adwords and BingAds
Social Media Marketing – Facebook, Twitter, Instagram and other social networks
Website Conversion Rate Optimization
Sweepstakes and Contests
Customer Referral Programs
Email Marketing
Promotions and Deals
Affiliate Marketing
Mobile Marketing
Experience Advertising provides cutting-edge digital marketing services for their clients. They provide an array of essential ecommerce management services in channels like: SEO, SEM (Google Adwords and Bing Ads), Affiliate Marketing, Social Media (Facebook, Twitter, Pinterest, and Instagram), Facebook Advertising, Retargeting, Shopping Engines, Email Marketing, Blogging, Conversion Rate Optimization, Mobile, Web Design, and Programming. If you are looking for a digital agency with an ROI-focus visit Experience Advertising, Inc.