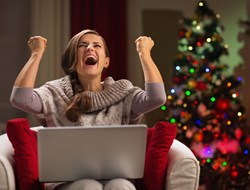 Fort Lauderdale, FL (PRWEB) November 01, 2013
Experience Advertising, Inc., a leading digital marketing agency, has released their complimentary guide for ecommerce companies interested in maximizing website traffic, sales revenue, and social engagement during the 2013 holiday shopping season. The guide is titled: 2013 Multi-Channel Ecommerce Holiday Marketing Strategies Guide. The guide is designed to benefit all sizes of ecommerce companies by providing actionable ideas and strategies any company can implement into their marketing strategies for the holidays.
The 2013 Multi-Channel Ecommerce Holiday Marketing Strategies Guide was authored by Evan Weber, CEO and founder of Experience Advertising, Inc. Weber has more than 15 years of ecommerce experience, having been in the online marketing space since the late 1990s. Weber stated, Each year I put together a list of strategies, ideas, resources, and companies that the vast majority of ecommerce companies can use to ensure that they have a cutting-edge digital marketing strategy in place during the holiday shopping season. The beauty of online marketing is that you can market your website across channels whether you have a small budget or deep pockets. Online marketing allows you to track and measure your ROI on every dollar spent, which other more traditional forms of media do not. Therefore, companies can generate as much traffic as they possibly can right up to their allowable cost-per-customer threshold. One of the things that makes our agency stand apart from the rest, is that we put a strong emphasis on increasing our clients website conversion rates with our proprietary strategies. The better our clients websites perform, the more targeted traffic can be driven and therefore revenue and profit.
The 2013 Multi-Channel Ecommerce Holiday Marketing Strategies Guide covers subjects including:


Search Engine Optimization (SEO)
Pay-per-click Search – Google Adwords and BingAds
Social Media Marketing – Facebook, Twitter, Instagram and other social networks
Website Conversion Rate Optimization
Sweepstakes and Contests
Customer Referral Programs
Email Marketing
Promotions and Deals
Affiliate Marketing
Mobile Marketing
Experience Advertising provides cutting-edge digital marketing services for their clients. They provide an array of essential ecommerce management in channels like: SEO, SEM (Google Adwords and Bing Ads), Affiliate Marketing, Social Media (Facebook and Twitter), Facebook Advertising, Retargeting, Shopping Engines, Email Marketing, Conversion Rate Optimization, Mobile, Web Design, and Programming. If you are looking for a digital agency with an ROI-focus visit Experience Advertising, Inc.