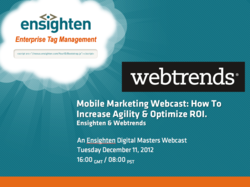 CUPERTINO, Calif. (PRWEB) December 06, 2012
Ensighten, innovator of Real-Time Tag Management Systems and visitor privacy solutions that optimize web analytics and digital marketing performance, is teaming with Webtrends, the global leader in digital intelligence, to help digital marketers get to grips with multichannel marketing analytics. Next week, experts from both companies are hosting a complimentary webcast designed for digital marketers, mobile marketers, mobile app developers, and ecommerce professionals who deploy apps on Android and Apple iOS.
As marketers increasingly deploy campaigns via the mobile channel, they need to find ways to streamline app data collection and ensure this data is integrated with information from other marketing channels such as the Web, said Adrian James, managing director of Ensighten EMEA. Ensighten and Webtrends offer a solution that addresses the needs of todays digital marketers: real-time mobile tag management, more insightful reporting, and better business outcomes and ROI. Dash Levine from Webtrends and I will provide recommendations to help digital marketers derive the most from their mobile campaigns.
WHAT WILL I LEARN?

Implementing mobile marketing strategies often involve a series of frustrating stumbling blocks to achieve optimum user experience, engagement and a healthy return on investment. Whether on Android, or iOS, making app-specific changes to ad networks and Web analytics frequently means additional development effort or even a complete recompile. And then more waiting: wait for re-approval from Apple or Google; wait for the revised app to appear in store; and wait for customers to download the updated app.
WHAT THE PRESENTERS WILL COVER