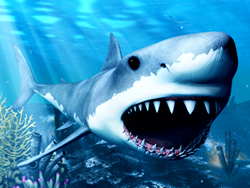 MEMPHIS, Tenn (PRWEB)
July 10, 2015
Virtual reality developers, hyperactiveVR, announces the launch of a Kickstarter campaign for their virtual reality shark education experience, Shark! VR, in collaboration with Ryan Johnson, a shark expert, marine explorer, and filmmaker. Some of Ryans previous work has been with National Geographic and The Discovery Channel.
The VR experience will allow learners to explore an underwater world full of coral reefs, ocean scenery, and sharks, using Oculus Rift, Google Cardboard, or standard display on PC (no VR hardware required). The final product launch is expected by March 2016.
Fascinating but vulnerable, sharks get large volumes of attention and certainly a significant amount of bad press, says hyperactiveVR co-creator, Madeline Ward. While we never want to downplay the fact that sharks are dangerous when not respected, we expect Shark!VR to be a tool that helps dispel myths and promote a healthy understanding of the critical role of sharks in the underwater world.
Shark Guru, Ryan Johnson, voices his concern about the treatment of sharks and his hope to change the human relationship with sharks through education: The destructive nature of humans towards sharks and marine life is an ever present burden. But with more people dedicating their lives and efforts to shark conservation, eco-tourism, and getting protective legislation in place, I am hopeful that sharks, and the oceans, may one day bite back!
The ability to swim with sharks in virtual reality offers the opportunity for adults and kids to learn important truths about these highly intelligent creatures. In addition to viewing the intriguing anatomy of the shark, with teeth that regenerate as needed and their various useful fins, Shark! VR users can learn about the critical role that sharks play in their subaquatic homes.
Shark! VR Kickstarter campaign offers tiered incentives for contributors, including a meet-up with Ryan Johnson and the development team, as well as a real-life South African Shark Excursion.