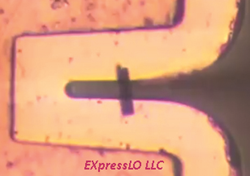 Lehigh Acres, FL USA (PRWEB) January 27, 2015
EXpressLO LLC, provider of specimen preparation solutions for focused ion beam (FIB), announces the release of the Aspirato lift out module for the EXpressLO ex situ lift out station. The Aspirato module enables faster processing of FIB specimens by improving lift out speed and specimen placement, allowing users to maximize the advantages of the EXpressLO grids and lift out method. Aspirato will be featured at the 8th Annual FIB SEM Workshop, February 25, 2015, at Johns Hopkins Applied Physics Laboratory, Laurel, MD USA.
Researchers are always challenged to find ways to achieve higher throughput. Aspirato improves speed, specimen manipulation accuracy, and positioning reliability for lift out to our patented EXpressLO grids, which are uniquely designed to allow specimens to return to the FIB for further processing, states Dr. Lucille Giannuzzi, President of EXpressLO LLC. More control over specimen positioning to our grids enables users to quickly place the area of interest in the optimal position for either FIB post processing or for S/TEM imaging. In addition, because Aspirato is a module, it can be implemented on all EXpressLO units, eliminating concerns over obsolescence of older systems.
Aspirato complements the EXpressLO LLC portfolio of intellectual property, reinforcing the Company's dedication to and expertise in creating solutions that improve FIB specimen preparation. Aspirato and the EXpressLO solutions benefit FIB users in industry and at universities, in both the life sciences and physical sciences. EXpressLO LLC solutions are easy to use, and provide a fast and highly cost effective alternative to executing lift outs inside an expensive FIB instrument.
About ExpressLO LLC:

EXpressLO LLC provides solutions designed to allow FIB users to achieve greater success in sample preparation. Founded in 2012 by Dr. Lucille Giannuzzi, a globally-recognized expert in focused ion beam theory, methods, and applications, EXpressLO and its products enable increased productivity for FIB users of all experience levels. The EXpressLO specimen grid carrier and ex situ lift out methods are covered under U.S. Patent and Trademark Office awards 8,740,209 and 8,789,826.
For more information, please visit http://www.EXpressLO.com or contact Dr. Giannuzzi directly at info(at)EXpressLO(dot)com. Videos may be viewed at http://www.YouTube.com/LAGiannuzzi/videos.