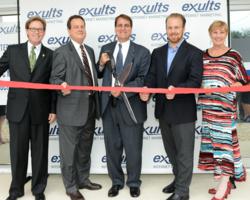 Ft. Lauderdale, Florida (PRWEB) November 27, 2012
Local business leaders, notables and Fort Lauderdale City Officials joined Zach Hoffman, Founder and CEO of Exults Internet Marketing, and his Exults team, for an exclusive cocktail reception and ribbon cutting ceremony to celebrate Exults seventh anniversary and new office expansion on Wednesday, October 17th in Fort Lauderdale. The Honorable Jack Seiler, Mayor of Fort Lauderdale; Ft. Lauderdale City Commissioner Romney Rogers; and several Greater Fort Lauderdale Chamber of Commerce executives were on hand for the commemorative ribbon cutting ceremony. As a growing local company, Exults is excited to be expanding and adding employment opportunities to help grow the South Florida economy.
We were so thrilled to be able to share our most recent milestones with Mayor Seiler, Commissioner Rogers and other notable members of our community, said Zach Hoffman, Founder and CEO of Exults. At Exults, we look forward to continuing to expand and support the growth of the local economy by adding more jobs and providing businesses and organizations with premier internet marketing services to help them grow.
With its recent expansion, Exults more than doubled their existing office space by taking over the suite next door in the same building located at 1120 Federal Highway in Ft. Lauderdale. The additional modernized office space with a living room feel, now houses a new call center for their sales staff. The functional working space also allows Exults to host client meetings virtually with their new meeting rooms that each hold a big screen TV mounted to the wall with web conferencing availability. The pet friendly office space will also house a poker table and gathering area for staff. Exults is also looking to hire additional sales representatives, social media managers, copywriters and client relations managers to add to their expanding business.
As a full-service internet marketing company, Exults is RESULTS DRIVEN for its clients and offers a complete range of internet marketing services to reach its clients goals. Exults premier services include Website Design, Search Engine Optimization, Pay Per Click Management, Social Media Marketing, Video Optimization and Brand Identity/ Reputation Management. Exults Founder and CEO Zach Hoffman oversees and manages the day to day operations of the growing Ft. Lauderdale based internet marketing agency. For more information about Exults, please call 866-999-4736 or visit http://www.exults.com.