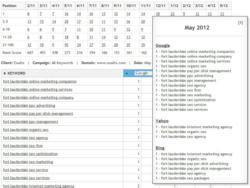 Ft. Lauderdale, FL (PRWEB) July 20, 2012
Exults, one of the countrys leading internet marketing companies, has announced that its has launched its innovative ARC Accountability-Results-Communication back-end client login system, that will revolutionize the way clients access, track and measure the results of their internet marketing campaigns. Known for providing extraordinary results for its clients nationwide, Exults has created its proprietary ARC system to provide real-time reports and add complete transparency of results.
Our ground-breaking ARC tool provides our clients the ability to access results, communicate requests, and a clear and easy-to-understand way of tracking their campaigns, stated Zach Hoffman, Founder and CEO of Exults. Instead of simply providing customers with a spreadsheet of confusing data; Exults has created an interactive system which allows clients to chart campaign progress using real-time graphical representations.
Exults ARC system provides a multitude of functionalities for all elements of a clients internet marketing campaign. ARC also works for clients who host simultaneous campaigns for various initiatives on multiple websites including micro-sites, mobile sites and social media platforms.
ARCs proprietary dashboard components help Exults clients view and manage their Search Engine Optimization (SEO) and Pay-Per-Click (PPC) campaigns. The SEO functionality helps clients organize keyword rankings with Google, Yahoo and Bing in monthly reporting and provides visual graphs that make it easier to understand the campaigns progress and rankings. The Pay-Per-Click function measures the performance of the traffic purchased from Google AdWords and Microsoft AdCenter (Bing & Yahoo) as well as click through rates, total ad spend, cost per click, impression count, and much more.

The ARC system allows for better communication between the clients and Exults team of internet marketing experts. The ARC Request Module allows for a consistent line of communication between clients and the Exults staff where clients can easily upload large graphics and content. The system automatically notifies the central hub of uploads and new requests, streamlining the work flow for each client objective.
As a full-service internet marketing company, Exults is results driven for its clients and offers a complete range of internet marketing services to reach its clients goals. Exults premier services include Website Design, Search Engine Optimization, Pay Per Click Management, Social Media Marketing, Video Optimization and Image Enhancement/ Reputation Management. Exults Founder and CEO Zach Hoffman oversees and manages the day to day operations of the growing Ft. Lauderdale based internet marketing agency. For more information about Exults, please call 866-999-4736 or visit http://www.exults.com.