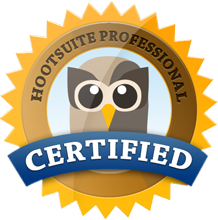 Pittsburgh, PA (PRWEB) September 25, 2012
At the beginning of last month, Eyeflow Internet Marketing, a Pittsburgh-based organic SEO company, earned certification from HootSuite University. HootSuite University is a program run by HootSuite, a social media tool, to educate users on how to get the most out of the sites services.
HootSuite is a social media management tool used primarily by businesses and organizations to monitor and promote social media campaigns across several platforms. The system can be used to not only launch campaigns, but to identify audiences, reach new demographics, and distribute and track targeted messages. HootSuite streamlines the process of managing social media campaigns through its single dashboard layout, allowing users to access different parts of a social media campaign quickly and easily. This functions much like a CMS does for a website. The tool provides network integration for Facebook, Twitter, LinkedIn, Google+, StumbleUpon, Youtube, Flickr, Tumblr, and more commonly used social media platforms.
While you can learn some HootSuite basics from their website, undertaking their University program teaches users how to reap the most benefit from enrollment. Visitors can even see the latest tweets from a company by checking out a company representatives certification page.
As a HootSuite Certified Professional, Eyeflow is able to manage client social media accounts even more effectively. Because of the tight integration with social media platforms, the Internet marketing firm is able to use the tool to streamline workflow and the optimization process, schedule posts for publication in advance (up to 50 at a time), and geo-target audiences for more precise marketing campaigns. A new system of reporting also allows us to better track how social media publications are received and shared, including monitoring news feeds and mentions. These posting and tracking features simplify the process of handling multiple accounts simultaneously, particularly the accounts of large clients.
Eyeflow can also use this as another tool to easily track competitor activity to gauge the marketplace as a whole for clients as well as determine the best course for a campaign. Employees can share access to an account with other team members or clients without needing to also share passwords, which could potentially compromise the security of the account. Additionally, the tool facilitates greater integration of team efforts for a social media campaign as well as provides a way for clients to engage in the process if they want to be more involved in their social media.
Eyeflow Internet Marketing specializes in website promotion through organic SEO. It offers a number of services, including page optimization, design consultation, content creation, social media marketing and blog posts. Above all, Eyeflow advocates creating informative and engaging content in order to reach wider audiences and increase the impact of a companys brand.