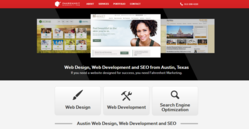 AUSTIN, TEXAS (PRWEB) April 23, 2013
Fahrenheit Marketing has been contracted by Petrosys, PTY, Ltd., an international company providing oil and gas mapping solutions, to build the company a new, redesigned website.
The new website will be accessible from mobile devices, including tablets and smartphones, through a responsive design, which detects the users screen resolution and browser size and automatically rearranges the design to look best on that particular device.
It will also feature multilingual capabilities to allow users to choose to view the website in English or Spanish. Additionally, the new website will come with an improved content management system to make updating the site in both languages easier.
According to Fahrenheit Marketing CEO Ricardo Casas, Petrosys, which is headquartered in Australia, actively chose to work with a Web design firm in Austin that understood and had a proven record of catering to the growing mobile community by offering responsive design as a standard procedure and not an optional feature.
Austin has developed a reputation for having some of the best creative and technological talent in the nation, Casas said. Top developers and designers flock to Austin because of the excellent quality of life here. As a result, firms like ours are able to offer the best possible work to international companies like Petrosys.
Petrosys isnt the only international client Fahrenheit Marketing has worked with recently: Last year, Fahrenheit Marketing designed an interactive website to inform patients of allergy information for ALK Abello, a global pharmaceutical company headquartered in Denmark.
To see examples of Fahrenheit Marketings work for local and international clients, click here.
About Fahrenheit Marketing
Fahrenheit Marketing is an Internet marketing firm in Austin, Texas. Since 2008, it has provided a full range of marketing capabilities from search engine optimization and Web development to call tracking and conversion management for a variety of clients. Its employees are passionate about digital marketing and constantly innovating in their fields.