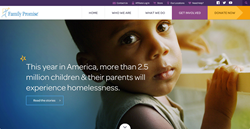 Summit, NJ (PRWEB) April 30, 2015
Family Promise, the leading volunteer-driven, national nonprofit helping homeless and low-income families achieve sustainable independence, launched their new website Tuesday, April 28. The site, http://www.familypromise.org, is a dynamic, WordPress-based, responsive design, communicating the Summit, New Jersey-based organizations mission and vision, while increasing support and building the organizations brand.
The new website provides visitors with a truly engaging experience, says project manager Chris Kaul of Family Promise. It has a very contemporary feel, with beautiful photos, stories from families we serve across the country, and intuitive navigation throughout. Our goal was to tell the Family Promise story in a compelling fashion and thats exactly what the new website has accomplished.
The site is designed to serve a broad audience of current and potential supporters, corporate partners, volunteers, families seeking services, and Family Promise Affiliates nationwide. Features include:

Home Page comprising a full-screen slideshow, linked success stories, recent news feed, featured video, and auto-updating social media feeds;
Social Media share buttons on all content;
New Donation pages and flow for enhanced user experience;
Corporate Engagement section highlighting current initiatives as well as opportunities for prospective partners;
Volunteer Opportunity links for both national office and local Affiliate;
Nationwide Affiliate search engine using Google Maps;
Redesigned Online Store to promote Family Promise brand and generate revenues;
Password-protected area for Affiliate support content and materials;
Responsive Design for tablet and mobile users.
Family Promise conducted an extensive national search for an agency to partner with on the project, eventually choosing Wide Eye Creative, a Washington, DC-based design studio. They worked together closely for more than six months to create the final product.
Wide Eye Creative Director Ben Ostrower says, With the redesign of the Family Promise website, we endeavored to streamline the organization's entire web presence into a highly useable website that is fully adaptable to all desktop and mobile platforms. The end product is deceptively simple-looking – it is a highly dynamic piece of web technology capable of empowering and fueling the organization's communications efforts in the coming years.
About Family Promise

Family Promise was founded in 1988 on the belief that Americans are compassionate people who want to make a difference. Today, Family Promise comprises 189 Affiliates in 42 states, with more in development. Family Promise programs involve more than 160,000 volunteers and they provide assistance to more than 50,000 family members annually. Since their founding, they have served more than 600,000 people, including tens of thousands of homeless families who found temporary homes at Affiliates nationwide.
About Wide Eye Creative

Wide Eye Creative is an award-winning Washington D.C.-based digital design studio that empowers campaigns, organizations and businesses with elegant design & innovative technology. They have collaborated with hundreds of organizations, campaigns and businesses since 2008 including the Democratic Party, the United Nations, and the American Cancer Society.