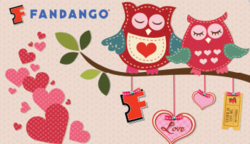 (PRWEB) February 13, 2013
Film fans can now plan the perfect date night with Fandangos new Valentines movie guide, Your Guide to the Perfect Valentines Day Movie Night. The new online resource lets moviegoers browse romance-themed video and photo galleries for inspiration, and purchase special Valentines-themed Fandango gift cards.
According to a recent Fandango survey, this Valentines weekend might become a battle of the sexes, as 73% of men picked A Good Day to Die Hard as their preferred Valentines weekend movie, while 65% of women chose Safe Haven.
A bit of advice for men trying to please their ladies this Valentines Day: 79% of the women surveyed said that a romantic dinner and a movie is their preferred Valentine's night date. A full 81% of female respondents claim they pick the movie for Valentines night; while only 23% say they pay for the movie on Valentines Day. Also, 92% of the women said they would be annoyed if their Valentines date talked or texted during the movie.
About Fandango

Fandango, the nation's leading moviegoer destination, sells tickets to more than 20,000 screens nationwide. Fandango entertains and informs consumers with reviews, commentary, celebrity interviews and trailers, and offers the ability to quickly select a film, plan where and when to see it, and conveniently buy tickets in advance. For many theaters, fans can print their tickets at home or receive them as a paperless Mobile Ticket on their smartphones. Fandango is available online at http://www.fandango.com, via smartphones, tablets and other mobile devices, and at 1-800-FANDANGO. Fandango's top-ranking movie ticketing apps, with 31 million downloads, are available on the iPhone and iPad, Android, BlackBerry, Windows Phone 7 and many other platforms. Fandango is enjoyed by more than 41 million online and mobile visitors per month. Film fans find Fandango on Facebook at http://www.facebook.com/fandango and on Twitter @Fandango.