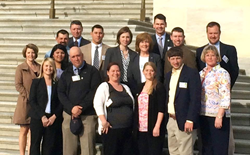 (PRWEB) May 01, 2015
On April 15th and 16th, a group of nine Ag Biz Planner graduates and seven Farm Credit of the Virginias employees traveled to Washington, D.C. to share their agricultural stories with representatives in both the House and Senate. Ag Biz Planner Program is designed to help beginning farmers or those who are established get their farm or business up and off the ground or enhance the success of an existing operation. Participants work through a series of online modules. These modules discuss: agriculture, market trends, management skills, etc. The program itself concludes with the development of a working business plan. Former participants of this program had an opportunity to share their agriculture and Farm Credit stories with their representatives during a two day trip to the Nations capital. These agricultural producers represent a wide range of agriculture operations including dairy and beef farmers, poultry house operators and a cut flower grower, among others.
The following producers were able to participate in the experience which resulted in a wide array of farm and operation locations throughout Virginia and West Virginia: Ben Smith of Remington, VA, Mark Ramsey of Culpeper, VA, Jessica Hall of Weyers Cave, VA, Valerie Moore of Mt. Sidney, VA, Keith Bohrer of Slanesville, WV, Nate Aker of Wytheville, VA, Matt Heldreth of Rural Retreat, VA and Ben Hucks of Meadowview, VA. All of the producers that traveled to Washington, DC are alumni of the Ag Biz Planner Program that has taken place over the past three years.
Each of these individuals had a unique story on how they became involved in their operations, what their goals and plans are, and the challenges that they face. They shared these with the representatives from their area, which included Congressman Hurt, Congressman Brat, Congressman Mooney, Congressman Goodlatte and Congressman Griffith as well as Senator Kaine, Senator Warner, Senator Manchin and Senator Capito. These visits helped to give agriculture a face for these representatives and provided some insight into concerns and challenges for todays young farmers. Farm Credit of the Virginias is proud to support these young farmers and help them to share their stories with Congressmen and Senators to promote and encourage agriculture in all of its forms.
One of the Farm Credit of the Virginias program mentors stated, The opportunity for producers to share about their farms and operations is priceless as they are the individuals who experience the joys and blessings along with the trials and tribulations that accompany agriculture. The producers were able to address issues or concerns as well as highlight the positives to the individuals who are their voice in legislative actions.
Farm Credit of the Virginias provides over $ 1.5 billion dollars in financing to more than 10,000 farmers, agribusinesses and rural homeowners throughout Virginia, West Virginia and western Maryland. Farm Credit is a cooperative capitalized largely through investments made by farmers, ranchers and the rural homeowners and businesses that borrow from them. Farm Credit helps maintain and improve the quality of life in rural America and on the farm through its constant commitment to competitive lending, expert financial services and for facilitating and sharing knowledge and resources through the Farm Credit Knowledge Center. For more information, visit http://www.FarmCreditKnowledgeCenter.com or http://www.FarmCreditofVirginias.com.