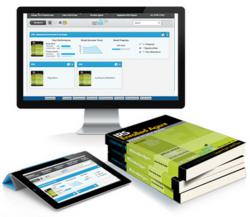 Orlando, Florida (PRWEB) June 14, 2013
Last month, Fast Forward Academy released a revolutionary intelligent textbook for CPA students, and now this unique interactive and engaging study tool is available for those preparing to take the EA exam.
Called FastBook, this one-of-a-kind textbook is termed intelligent for its interactive and intuitive features. Students studying for the EA exam can use FastBook to increase their chances of passing the exam on the first try. Based on prep-test scores, FastBook identifies sections of the textbook that have the highest probability of increasing a students score on the exam.
FastBook identifies specific sections for each student using state-of-the-art performance data. Students can pull specific content by identifying a threshold of right/wrong answers for certain sections, thereby allowing the textbook to know where an individual students weak areas are. The default setting is 80%, but students can modify this number based on study needs.
EA students can also use FastBooks interactive features to prep for the challenging examfeatures such as highlighting sections, storing notes, marking sections,

searching content and viewing community and personal exam/quiz results.
Fast Forward President, Matt McBride, is thrilled to offer this study tool to anyone preparing for the enrolled agent exam. FastBook is the only intelligent textbook in the industry, and Fast Forward Academy is proud to offer this unique revolutionary way to study for the EA test to our students, states McBride. We cant stress enough our belief that there are numerous methods of learning; FastBook breaks from the traditional one size fits all model and uses a more one size fits one, individual approach.
FastBook also offers features for the instructor, by tracking a students progress through the textbook and prep quizzes and providing the instructor with a review of usage and performance.
Click here to see how FastBook can help you prepare for the EA exam.
About Fast Forward Academy
Fast Forward Academy, LLC provides companies and individuals around the world with the tools to help them efficiently manage their professional education needs. The name Fast Forward Academy reflects the scope of our missionhelping students and professionals accomplish more in less time. To realize this goal, we make every effort to provide the most useful and efficient exam prep material in the market place, all designed to help our students Learn Fast and Pass. Our principal focus is to supply rapid training and streamlined continuing education to professionals in the fields of taxation, securities and insurance.
###