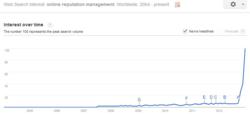 New York, New York (PRWEB) March 04, 2013
Industry-leading reputation monitoring and management agency Reputation Changer has announced that it grew by leaps and bounds in 2012and that it has every intention of doing the same in 2013. According to a new statement from the company, in 2012 Reputation Changer grew 600 percent profitably, an expansion due to increased enterprise and government sales, prestigious accolades, returns on successful R&D investments, and, above all, client referrals. Moreover, the company says its three year compounded annual growth rate is more than 1200 percent and it plans to grow 1000 percent in 2013, a goal that it is currently well on track to meet.
We are now the largest firm in the world that is solely dedicated to online reputation management services. We have a great team and the most effective service. Reputation Changer continues to grab a larger share of a fast growth business, comments Michael Zammuto, the President of Reputation Changer. Google search queries for the term online reputation management have skyrocketed, growing exponentially in the last year alone. The simple reality is that more and more businesses, public figures, and private citizens are beginning to understand that what people say about them online mattersand that the best way to repair a damaged reputation is to enlist a professional online reputation management company, like ReputationChanger.com.
Zammuto continues by noting that, where reputation management was once tenable on a DIY basis, companies are finding it increasingly difficult to take their online reputation into their own handsthanks in large part by seismic shifts in Googles search algorithms, including the widely-discussed Panda and Penguin updates. Google has changed its algorithms in ways that make it harder for businesses and brands to defend themselves from online defamationso they come to us, remarks Zammuto.
He also observes that 2012 found ReputationChanger.com being heralded as the #1 online reputation management company in the world by TopSEOs, a prestigious honor that has made the company the brand of choice among many consumers. It is crucial to note our companys standing as the top business in its field, Zammuto explains. We are committed to our exclusive focus on reputation management. That focus is what sets us apart. A lot of our competitors offer SEO, marketing or web development services and we do not. Reputation management is what we do at Reputation Changer, all day and every day. Rather than become the jack-of-all trades, our company has opted to become the master of oneand thats why our reputation management products and services are simply superior.
Zammuto lists further reasons for Reputation Changers epic 2012. We are an incredibly fast-growing company, and there are many reasons why, he affirms. One thing that sets Reputation Changer apart from its competitors, and allows us to continue expanding so dramatically, is our ever-increasing investment in R&D. Through pioneering best-in-class technologies like the Command Center, we can deliver results, no matter the clients reputational or branding needs. Other important developments from 2012 include the development of the companys own news network, allowing it to publish wide-reaching online content and foster beneficial relationships with major media players; and, the continued development of its C-level executive team.
More than anything, though, Zammuto says ReputationChanger.coms growth has been fueled by referrals and word of mouth. Referrals from satisfied clients have absolutely driven our companys growthmore than any other single factor, Zammuto explains. He also notes that, to date, all of the companys marketing endeavors have been inbound. Every client we have receivedfrom Fortune 500 companies to political figures to doctors, dentists, lawyers, and college studentshas come to us. They have sought out ReputationChanger.com because they have heard the positive buzz about what we can do, says Zammuto.
Reputation Changer plans on topping itself in 2013. Zammuto says that there are several strategies in place to push the business ahead in the coming months. We expect to close out an A-round of growth capital soon, and have been fortunate to meet with some venture capital companies that are eager to help accelerate our growth, he observes.
More specifically, Reputation Changer is working to expand its operation in more ways than one. The company developed its National Accounts Department in 2012, and plans to continue growing it in 2013, both through further C-level executive recruitment and through the recent opening of its satellite office in Washington, D.C. This is the office that our National Accounts team will use to coordinate campaigns on behalf of national political figures and elected leaders, Zammuto offers. In addition to the Washington, D.C. office, Reputation Changer is also preparing to open a second office in Philadelphia, devoted to sales and to recruiting.
Zammuto also says that the company will increase its sales and marketing efforts by 800 percent in the months to come. This includes a number of national marketing campaigns, including a national TV presence, he notes. In addition, ReputationChanger.com will continue to promote itself through national social media and PR marketing endeavors.
Through the combination of all of these efforts, Zammuto believes Reputation Changers 600 percent growth from 2012 will blossom into 1000 percent in 2013. We are currently on track to meet this goal, and to continue pushing our company forward, he concludes. The bottom line is that ReputationChanger.com continues to establish its mastery of this field, and its desirability to clients of all kinds. Reputation Changer remains committed to our belief that every company and every individual deserves control over their online reputationand we are excited to continue growing, improving in our ability to help our clients control their online image.
ABOUT:
Reputation Changer was founded in 2009, and since that time it has grown in stature and esteem, currently standing as the leading online reputation management company in the world. Praised by TopSEOs as the #1 company of its kind, Reputation Changer is heralded for its standard-setting practices and innovations in the field of online reputation monitoring and repair. Reputation Changer was founded by an elite team of direct response marketers, and today, its team includes content marketing professionals, social media gurus, SEO experts, and account executives. Reputation Changer.com is led by President Michael Zammuto, and renders its services to private citizens and public officials, to Fortune 500 brands and to small companies.