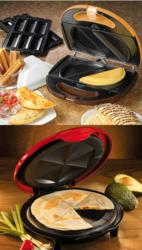 Green Bay, Wisconsin (PRWEB) May 03, 2013
Whether the goal is an authentic-inspired meal or a TexMex Taco Tuesday treat, fresh quesadillas and crunchy tortilla bowls are easier with Nostalgia Electrics. The companys 8 Electric Quesadilla Maker and its new Tortilla Bowl Maker bring versatility and creativity into any kitchen, any time of the year!
A part of Nostalgia Electrics Fiesta line, the 8″ Electric Quesadilla Maker makes creating crispy quesadillas at home a personalized experience. With the options to choose from virtually any variety of meats, cheeses and other ingredients, consumers can go from a culinary idea to flavorful sections or slices in just minutes. The Electric Quesadilla Maker can also be used to make sweet treats using peanut butter or other spreads, and the removable drip tray, nonstick coating and stand-on-end design make cleaning and storage simple.
The latest addition to the Fiesta line–sold only at Bed, Bath & Beyond stores–the Tortilla Bowl Maker is a brand new offering for health-conscious consumers looking to make a zesty salad, dip or dessert. It turns ordinary store-bought tortillas into crunchy perfection and since the tortillas are baked, not fried, consumers end up with a healthier, calorie-cutting and time-saving supper solution. Like its Quesadilla counterpart, the options for delicious recipes are practically limitless. The cord storage under the appliance means space saved on the countertop or cabinet, and the Nostalgia Electrics logo means a price point thats as satisfying as the meal it makes.
8 Electric Quesadilla Maker & Tortilla Bowl Maker* (Item # EQM200 & TSM100) (sold separately)

Product Features: