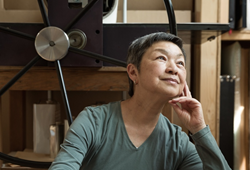 Denver, CO (PRWEB) July 01, 2014
The online gallery Fifty Artists today announced the release of six original paintings and drawings from Shanghai-born artist Mimi Chen Ting. The gallerys highly curated collection represents artists from a range of disciplines, highlighting them across digital platforms and social media. The new additions from Chen Ting range in price from $ 500 to $ 14,000, and span a range of visual approaches and formats. These special works on paper and canvas bring an extra measure of gravitas to our diverse collection, said Fifty Artists founder Jason Kallas. Were pleased to represent the work of such an important figure.
Among the works now on display are two 24 x 24 acrylics on canvas from Chen Tings Fig Bunny series. The paintings subvert traditional notions of foreground and background, light and shadow, suggesting a liminal space between worlds. Tangles and Ties 6 extends from a series of larger-format 54 x 48 paintings in which interacting cords and strings become an ever-evolving metaphor for life's many dances. Also on view are three new 9 x 12 colored-pencil drawings on paper. When I enter the studio, I am the child, delighting in boundless possibilities, says the Taos, New Mexico-based artist. Each work begins with a gesture, marked by a stick of charcoal or a paintbrush in hand.
Chen Tings work is largely known for its non-associative colors, heightened contrasts, sinuous contours and meticulous surfaces. Since the early 1970s her work has been featured in solo and group exhibitions in museums, galleries, and educational institutions both stateside and abroad, and can be found in numerous public, corporate, and private collections.
In 2012, Chen Ting received the prestigious Agnes Martin Award for Abstract Painting and Drawing, and last year showcased 48 works in three concurrent exhibitions in Taos. I prefer to work on several pieces at once, testing out different points of view and examining multiple facets of an issue, said Chen Ting, triggering internal dialogues that can be raucous, pensive, or downright hilarious. Her work has gained recognition for its meditative quality, by turns aesthetically challenging and beautifully decorative: Color is the ingredient that adds dimensional complexity and disequilibrium, said Stephanie Grilli, PhD, founder of ArtScribe.net. Relying on the pure sensation of color rather than association, she imparts poetic feeling into her inexhaustible compositions.
About Mimi Chen Ting

Born in Shanghai, China in 1946 and raised in Hong Kong, Mimi Chen Ting moved to San Francisco in 1965 to pursue degrees in Sociology and English Literature, and soon discovered her passion for making pictures. She received a Bachelor of Fine Arts in 1969 from San Jose State University, and immediately embarked on her graduate studies. Her first solo exhibition appeared at the Lucien Labaudt Gallery in San Francisco In 1970, and her work has since garnered positive reviews from Asian Art News, San Francisco Chronicle and Artweek, among others. In 1976 Mimi completed her Master of Fine Arts in painting. In 1988, on her first trip to New Mexico, Mimi purchased a one-room house on the Taos mesa, where she still lives and works, splitting her time between here and Sausalito, California.
About Fifty Artists

Established in 2013 as an online art gallery featuring original artworks, Fifty Artists provides a cross-platform showcase for emerging and mid-career artists to find new audiences around the world. The gallery offers marketing services for businesses and individual artists, supporting the elevation of art through social media engagement and a Kickstarter campaign. Original artworks can be purchased for $ 100 into the tens of thousands, providing access for beginning collectors and established art patrons alike. For a selection of available artworks, please visit http://www.FiftyArtists.com.
Media Contact:

David Scott

CONTENT Public Relations

http://www.ContentUniversal.com

david(at)ContentUniversal.com

720.371.9164