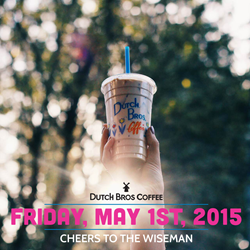 GRANTS PASS, Ore. (PRWEB) April 27, 2015
Friday, May 1, is Dutch Bros. Coffees ninth annual Drink One for Dane. On this day, all 242 Dutch Bros. Coffee locations will donate proceeds to the Muscular Dystrophy Association (MDA). MDA is leading the search in finding a cure for Lou Gehrigs disease, otherwise known as amyotrophic lateral sclerosis (ALS).
In 2005, Dutch Bros Co-founder Dane Boersma was diagnosed with ALS. Dutch Bros. rallied around him and started Drink One for Dane. The day became a celebration of Dane, his strength and his wisdom.
Dane passed away in late 2009, but he left behind a legacy upon which the company bases its decisions to this day. His memory continues to inspire everyone at Dutch Bros. to give their all, love every person they encounter and do more for others than for themselves.
The ice bucket challenge did a lot to raise awareness and funds for ALS organizations, but the fight is not over, said Travis Boersma, Dutch Bros. Coffee co-founder and Danes brother. We will celebrate my brother and all those facing this disease and continue to work until there is a cure.
We are inspired by the outpouring of support from local Dutch Bros. stands and all of their customers on Drink One for Dane Day, said Oregon MDA, Executive Director, Amy Ward. Dane continues to make a lasting impact by providing help and hope to those battling ALS.
Come join us Friday, May 1 and raise a cup in Cheers to the Wiseman and all those facing this disease, said Travis. Thanks to our amazing customers who help us so much on Drink One for Dane.
Over the past nine years, Drink One for Dane Day has raised over $ 1.2 million to further ALS research and provide local services to those served by MDA, said MDA Division Director Jack Pipkin. Dutch Bros. is making a real difference in the community by funding these invaluable services and moving us closer to finding a cure for ALS.
ALS is a disease that affects the parts of the nervous system that control voluntary muscle movement. There is no cure for ALS, and the disease is fatal. To learn more about the MDA and ALS, visit mda.org.
To find the location nearest you, visit http://www.dutchbros.com/locations.
###
About Dutch Bros. Coffee

Dutch Bros. Coffee is the countrys largest privately held, drive-thru coffee company, with over 240 locations and over 4,000 employees in seven states.
Dutch Bros. serves specialty coffee, smoothies, freezes, teas and a private-label, Dutch Bros. Blue Rebel energy drink.
The rich, proprietary coffee blend is handcrafted from start to finish. Every ingredient is measured, every process timed, and every cup perfected.
Known for upbeat baristas and genuinely caring service, Dutch Bros. Coffee was ranked by J.D. Power and Associates as highest in customer satisfaction for two consecutive years in its 2012 and 2013 Specialty Coffee Retailer Satisfaction Reports.
With a mission of, Making a Difference, One Cup at a Time, Dutch Bros. donates over $ 1 million annually to nonprofit organizations and local causes selected by local owner-operators.
Dutch Bros. Coffee is headquartered in Grants Pass, Ore., where it was founded in 1992 by Dane and Travis Boersma, brothers of Dutch descent.
To learn more about Dutch Bros., visit http://www.dutchbros.com, like Dutch Bros. Coffee on Facebook or follow @DutchBros on Twitter.