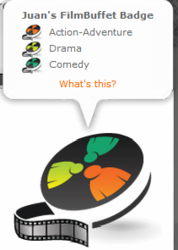 New York, NY (PRWEB) September 10, 2012
Every movie fan is unique. Some cant get enough of horror movies. Others prefer a good drama. To celebrate a movie fans different tastes in film, Filmbuffet has added a new member feature to their movie cataloging and social site, a member movie badge.
Filmbuffet recently added a unique member movie badge to every movie fan profile on the site. The movie badge showcases the type of movies dominating a members movie collection. We created the movie personality badge to provide a visual snapshot of the type of movies each Filmbuffet member loves,adds Timothy Stevens, CEO of Filmbuffet. This feature makes it easy for friends, family members and other film fanatics to see the type of films a particular member enjoys.
Movie fans can share their Filmbuffet badge on Facebook, Twitter and Google+ making it easier for friends to discover the type of films they share in common. The Filmbuffet member movie badge really simplifies planning a movie night with friends. All the host needs to do is check each friends profile, and simply choose a movie in the any of the genres they share in common.
Creating a personalized Filmbuffet movie badge is easy. Get started by logging in using a Facebook ID or e-mail address and clicking on the Join Now button. Filmbuffet membership is free. Once logged on, movie lovers can add movies to their own movie collection. The top three genres in a members film collection will be featured on his or her Filmbuffet badge. While on Filmbuffet, members can keep track of the films seen, create a list of movies they plan to see and connect with friends to discover the films theyre watching. Members can also write movie reviews, rate films, start or join movie discussions.
About Filmbuffet

Headquartered in New Vernon, New Jersey, Filmbuffet brings movie lovers the first social networking and movie cataloging site of its kind. With a blend of talent, ingenuity and business savvy, founders Timothy Stevens and Juan Carlos Martinez brought their creativity and expertise together to bring a new experience to movie fans everywhere. Filmbuffet serves as an online movie community where movie lovers connect to review movies, discuss films and discover new movies to watch. To learn more, visit Filmbuffet.