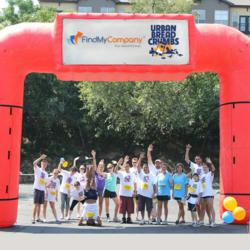 Austin, TX (PRWEB) September 24, 2012
Website Marketing firm FindMyCompany is happy to announce the winner of the first in a series of Urban Bread Crumbs races in Austin, Texas. But first, a quick recap…
Urban Bread Crumbs took place on September 8th, 2012, and saw contestants dashing from one notable South Austin checkpoint to the next. Markers included hair salon Wet, the famous I love you so much wall at Joes, food-trailer staple The Mighty Cone, and several other South Congress landmarks.
Racers competed in teams of two and were asked to check-in with photos on Twitter or Facebook at each preselected location. The first team to reach the finish linehaving left behind all their social bread crumbs along the waywould be declared the winner.
I thought it would be a fun way to combine social media with something physical, said Stathis Edel, President of FindMyCompany and former Ironman competitor. It also helped show our support for local businesses. By having participants check-in and post photos of different South Austin businesses, FindMyCompany bolstered the social efforts of these establishments by generating fresh activity.
It was part scavenger hunt and part race, with a social twist, said Rachael Star, Localization expert with FindMyCompany and first-time race coordinator. I was surprised how smoothly it went. Everyone just knew what to do. Its not like we had to explain how to check-in or post photos to Facebook. They already do it anyway.
Overall the field of participants skewed younger and less seasoned than many of Austins hardcore race events. Nonetheless, competition for the first UBC title was fierce. Out of a pool of several dozen, the winning team, The Fluffy Peacocks, completed all required check-ins, with a time of 1:16 (1 hour and 16 minutes). Congratulations!
FindMyCompany would also like to congratulate everyone who competed and thank all local businesses for their support. It was a lot of fun watching the photos and all come in, following along with everyone. Cant wait for the next one, said Heidi Buckner, Operations Manager with FindMyCompany and race day cheerleader. See photos from the event.
Those eager to compete wont have to wait long for another shot at the UBC crown. Urban Bread Crumbs II: The Ultimate Urban Challenge Race is scheduled for March 2nd, 2013, leading up to South by Southwest madness in Austin, Texas.
###
FindMyCompany is an industry-leading SEM company founded in Austin, Texas. Other FMC Texas locations include Dallas, San Antonio, and Houston. FindMyCompany provides a full slate of Website Marketing services, including Search Engine Marketing, Social Media Marketing, Paid Search Advertising, and Online Reputation Management. Find out more at http://www.findmycompany.com.