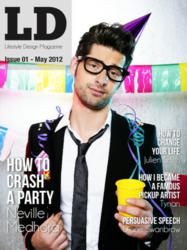 Melbourne, Australia (PRWEB) May 17, 2012
It seems when Steve Job's wanted to take on an industry he crushed it – With Apple now in the hands on Tim Cook, the next industry the tech giant is going after is the magazine industry – with their NewsStand platform exclusively on the iPad.
The NewsStand App Platform allows magazine publishers to create fully interactive magazines that include, not only the typical written articles, but video content, audio pieces and fully interactive web based content. It's seems Apple has done it again, by smashing the traditional limitations of a previously heavily controlled industry.
"The NewsStand makes it extremely cost effective for boutique publishers like us, to create a publication that is truly engaging for our audience." says Pete Williams, editor and founder of LD Magazine. "Before Apple's NewsStand, trying to put together a monthly magazine would have been too cost prohibitive; but thanks to Apple and the MagCast publishing platform it's something almost anyone can do"
LD Magazine is one of the first magazines on Apple's NewsStand platform, that is not from a big traditional publisher. Up until the release of the MagCasting service, allowing small publishers access to the NewsStand platform (currently in Beta) the service was limited to larger publishing houses.
"The response has been amazing" continued Williams "We've got subscribers from across the globe, who are interested in getting the most current curated content on LifeStyle Design in such a visually appealing and engaging format… the sign-up numbers have been staggering"
For more information, or interviews with the boutique publisher, Pete Williams contact Preneur Group on +613-9536-2816
LD Magazine:

There is so much noise out there when it comes to effective and efficient LifeStyle Design techniques, advice and case studies LD Magazine has been designed to reduce all the noise, curated the best of the best from across the globe and present it in a highly engaging digital magazine here on the iPad.
MagCast Platform:

MagCast is the platform for small boutique publishers wishing to get their magazine, journal or digest into Apple's NewsStand, without having to be a traditional publisher. Access to the platform is currently in Beta, but will be available to the general public in just over 2 weeks.