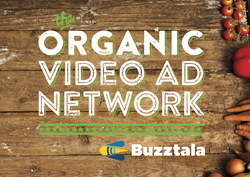 New York, NY (PRWEB) November 05, 2014
Today Buzztala announced the general availability of its Organic Video Ad Network, solving the biggest product search problem facing top brands today. Advertisers will spend more than $ 18B this year on search engine marketing (SEM) trying to attract customers using desktop and mobile browsers. However paid search budgets completely miss over half the intended audience as 52% of all internet time is now spent in mobile apps, primarily Facebook and YouTube.
Buzztalas Product Video Ads (PVAs) are short video product summaries that capture first page organic search positions and thereby deliver more revenue than paid and social combined, according to a recent BrightEdge report. PVAs also produce industry leading CTRs (click through rates) and double as video ads, reaching the otherwise neglected mobile audience on Facebook and YouTube. Buzztala gives advertisers an effective option to complement both Shopping Ads (PLAs) and PPC text ads while providing consumers a visual way to get product information especially important on mobile devices where screen size limits the effectiveness of text ads. Over the last quarter, PVAs have outperformed Google PLAs by 2.5x and Google text ads by 4x for its advertisers.
The visual web is here and Facebook is a great example. Text-only posts have all but disappeared from the News Feed and its no surprise since 81% of all Facebook traffic comes from mobile, says Jay DeDapper, Founder and Chief Executive Officer of Buzztala. Facebook, Pandora, YouTube and Instagram, the top four mobile apps, are all entirely or mostly non-text and even on desktop YouTube is now just behind Google as the worlds top website.
Online auto warranty seller ForeverCar.com deployed PVAs for its top selling car models. After the first 45 days ForeverCar saw CTRs at 11.95% compared with Google PLA average at 2.8% and Google text ads at 1.9%.
Buzztala effectively drove customer acquisition for us in the first 45 days and we saw a 128% increase in SEO during the same time, said Mark Hodes, Chief Executive Officer at ForeverCar. We purposely made no other changes to our SEO so the gains were entirely attributable to the Buzztala Organic Video Network.
We give companies a compelling visual and mobile alternative to PLAs and text ads, added Henry Wong, Cofounder and Chief Operating Officer, Buzztala. As weve expanded from beta clients like ForeverCar to big brands and other top retailers, weve seen PVAs dramatically outperform PLAs and its important to note that purchase intent is much higher for our traffic because proactive click-thru comes only after a video is watched.
If youre not adjusting your search marketing spend to a much heavier mobile mix you are likely wasting money, said DeDapper. Remember roughly 60% of our time online is spent using mobile devices but only 31% of digital ad spend will be on mobile. That represents a 29% mismatch between where potential customers spend their time and where retailers spend their SEM dollars and we can help reduce that waste.
About Buzztala

The Buzztala Organic Video Ad Network is giving brands and retailers better ROI on search marketing budgets with our Product Video Ads (PVAs). These short video product summaries capture top organic search positions and deliver industry-leading CTRs. With our technology platform and presenter network Buzztala can produce videos featuring real people at scale for millions of products. Buzztalas PRVs are outperforming Google PLAs by 2.5x and Google text ads by 4x. Please visit Buzztala FAQs to learn more.