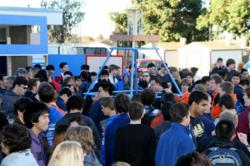 San Diego, Calif. (PRWEB) January 10, 2013
EnvironmentalLights.com, a leading source for high-quality, energy-efficient LED lighting, attended the FIRST Robotics kickoff event this past weekend in San Diego along with the Francis Parker High School Robotics team, the W.A.R.Lords (We Are Robot Lords), who they are sponsoring this year. Thousands of students, teachers, sponsors and mentors gathered at kickoff locations throughout the nation to hear the announcement of the FIRST Robotics Competition game.
In one of the kickoff events leading up to the announcement, co-president of the W.A.R.Lords, Nicole Simmons, was interviewed by KUSI News for their Tech Report. Watch the interview at: http://www.kusi.com/category/247429/tech-report.
"The Francis Parker W.A.R.Lords are a group of driven, hard-working and intelligent students, and I am proud to be a part of this amazing team, said Nicole Simmons, W.A.R.Lords teammate. Thanks to the support of companies like EnvironmentalLights.com we can continue to have this team grow and flourish into the engineers, programmers and even business people of tomorrow."
Dean Kamen, creator of the FIRST Robotics Competition, announced the game for the 2013 season Saturday, January 5 via a live NASA-TV broadcast and webcast that went out to nearly 51,000 high school students in 81 cities worldwide. Over 1,000 California high school students gathered at 6 kickoff locations throughout the state.
FIRST isnt about competing, its about cooperating, and recognizing that if you have the right tools, youll be able to make this world a better place for yourself and for the country, said Dean Kamen, president of DEKA Research and Development and FIRST Founder. There is no stimulus package that will have as much return as stimulating a bunch of kids to become the workforce of the future, the problem solvers, the creators of the future.
For Inspiration and Recognition of Science and Technology (FIRST)

FIRST was created to inspire an appreciation of science and technology in young people. It is a non-profit organization that designs accessible, innovative programs to build self-confidence, knowledge, and life skills while motivating young people to pursue opportunities in science, technology, and engineering.
The FIRST Robotics Competition (FRC) is an exciting, multinational competition that teams professionals and young people together to solve an engineering design problem in an intense and competitive way. FRC gives high school students (grades 9 12) a kit of parts and about six weeks to build a robot to meet the challenge of the game announced for the year. In that time frame they must design, build, program and practice with their robot so they are ready for the regional competitions starting in March.
High-school students get to:


Work alongside professional engineers.
Build and compete with a robot of their own design.
Learn and use sophisticated hardware and software.
Develop design, project management, programming, teamwork, and strategic thinking skills.
Earn a place in the World Championship game.
Qualify for over $ 14 million in college scholarships.
For our country to succeed, we must prepare our young people and our workforce for the jobs of the 21st century, and events like this competition are crucial for those efforts, noted the new governor of New Hampshire, Maggie Hassan. It is going to be incredibly important as we move forward in this state and in this country that more and more of our young people are prepared.
FRC is just one of the annual competitions hosted by the FIRST organization, along with support of national and local individual team sponsors. Colleges, universities, corporations, businesses, and individuals provide scholarships to the teams. EnvironmentalLights.com is a sponsor of the 2013 W.A.R.Lords of Francis Parker High School in San Diego. This will be the teams sixth year in the FIRST Robotics Competition.
As a sponsor and mentor to the W.A.R.Lords, I look forward to this years build season and competitions as much as the students! said Greg Thorson, President of EnvironmentalLights.com. It is our pleasure to support this group of hard-working students in their quest for technical skills.
For more information on the W.A.R.Lords and sponsorship opportunities, visit: http://robotics.francisparker.org/


FIRST Robotics Competition 2013: Ultimate Ascent

The 2013 game, Ultimate Ascent, is played between two Alliances of three teams each. Each Alliance competes by trying to score as many flying discs into their goals as possible during the two-minute and 15-second match. Discs scored in higher goals score Alliances more points. Matches end with robots attempting to climb up pyramids located near the middle of the field.
2013 FRC Kickoff Broadcast: Ultimate Ascent Game Detail: http://youtu.be/wa5MGEZNrf0

At the kickoff events, FRC teams were shown the Ultimate Ascent playing field which they were allowed to take measurements of and pictures for their planning sessions. They also received a kit of parts made up of motors, batteries, a control system, a PC, and a mix of automation components with no instructions. Working with adult Mentors, students now have six weeks to design, build, program, and test their robots to meet the seasons engineering challenge, finishing on February 19, 2013.
Sport for the Mind Regional and District Competitions

Teams will participate in 77 Regional and District competitions that measure the effectiveness of each robot, the power of collaboration, and the determination of students.
The seventh annual San Diego Regional FIRST Robotics Competition will be held at the Valley View Casino Center (formerly San Diego Sports Arena) in San Diego, CA, Thursday through Saturday, March 7th 9th, 2013. The competition is an intense three-day event showcasing robots developed and operated by dozens of high school teams from all over the world.
About Francis Parker School

Founded in 1912, Francis Parker School is San Diego's oldest and largest independent, non-denominational, co-educational day school. A college preparatory school committed to sustaining a diverse, family-oriented educational community, Francis Parker School remains true to its founding principle of meeting the needs of the individual student.
For more information about Francis Parker School, visit http://www.francisparker.org.
About EnvironmentalLights.com

EnvironmentalLights.com is a leading resource for sustainable, energy-efficient LED lighting products to meet the needs of business, commercial and residential clients. Founded in 2006 by Greg and Anne Thorson, their in-house sales engineers provide expert advice in the selection and design of lighting systems, as well as technical support throughout the installation process.
EnvironmentalLights.com offers a broad spectrum of LED light bulbs, strip and rope light, under cabinet light systems, Christmas lights, dimmers, controls and necessary hardware for any lighting project. For more information about Environmental Lights, visit http://www.EnvironmentalLights.com.