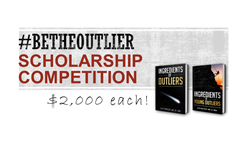 Scottsdale, AZ (PRWEB) September 29, 2014
Outliers Publishing is hosting a scholarship competition that will award five $ 2,000 dollar scholarships to high school juniors and seniors as well as college freshmen through juniors who demonstrate the characteristics of an outlier, as outlined in the book Ingredients of Young Outliers: Achieving Your Most Amazing Future, by Dr. John Shufeldt. Winners will receive a $ 2,000 credit to the college of their choice, and the scholarship is applicable to the Fall 2015 semester to all students except college juniors, who would apply to receive funds toward the Fall 2016 semester. The application deadline is December 31, 2014.
Participants can purchase a hard copy of Ingredients of Young Outliers with the coupon code BETHEOUTLIER2014 here to receive $ 4.99 off their purchase, or receive a free eBook copy by creating a free account on NetGalley.com. After reading the book, applicants are required to submit a short 30- 60 second video about one of three concepts: how the book inspired you to become an outlier, what you learned from the book, or someone you know who inspired you to become an outlier as defined in the book.
Applicants can post their video on social media, inspiring other students in leadership qualities of an outlier, to receive votes and qualify for the Audience Favorite Category. The video with the most votes on January 7, 2014 will win the Audience Favorite Category. The remaining videos will be evaluated based on creativity and adherence to the scholarship guidelines, and four will be selected by a panel of judges as winners of the Creativity Category. All winners will be notified by January 25, 2014.
Applications are being accepted now through December 31, 2014. Interested participants can visit the Outlier Series official scholarship website by clicking HERE.
Outliers Publishing will select random videos to post on the scholarship website during the voting period. After winners are notified, winning videos will also be posted on the website.
Being an outlier is more than just waking up everyday and rolling with the crowd, its about getting people to step out of their comfort zones and conquer goals they didnt know they were capable of, said John Shufeldt, author of the book. I want to give extraordinary students the ability to achieve their goals in education.
According to Shufeldt the purpose of the scholarship opportunity is to enable young people on their educational journey toward becoming an outlier.
I never had a mentor growing up, said Shufeldt, My goal for this scholarship and Outlier Series is to provide mentorship for young people, students, and anyone looking to further their career. The series will offer career specific howto-guides and stories from rock stars in various industries.
About Ingredients of Young Outliers:
Ingredients of Young Outliers: Achieving Your Most Amazing Future recently became a Living Now Book Awards Silver Medalist for the Childrens Non-Fiction category. The 164-page life guide is geared toward young adults who want to get a head start on their success by building leadership qualities. With the current technological advances, and nearly instant access to information and opportunities seemingly everywhere, finding ones passion, and determining the best future is becoming increasingly difficult. The question looms in every young adults mind- what major do I choose or which career should I pursue. In Ingredients of Young Outliers: Achieving Your Most Amazing Future, author John Shufeldt explores the traits of extraordinary individuals identified over nearly three decades of his professional career. While guiding young readers through these characteristics, he inspires them to step outside of their comfort zones and join the ranks of the outliers. His approachable and humorous style applied to very personal and inspirational stories, are geared toward helping young adults navigate their future opportunities and goals.