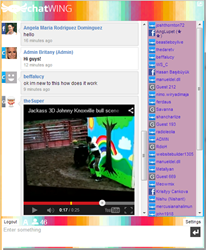 Los Angeles, CA (PRWEB) July 15, 2013
Active web surfers and website owners can take their online activities to the next level. Chatwing.com recently introduces a reliable chatbox that facilitates real time communication and helps websites gain improved online visibility. Anyone can install and use the chat widget with ease. Web users can also modify the chatroom in any ways he preferred. There are many customization options available for users to experiment with. Chatwing gives its users the opportunity to change the widgets every detail through CSS customization option.
Once the website chat app is installed, global connectivity can never be a concern. Chatwing chat box is a dependable communication tool that connects website owners and visitors real time. Chatwings latest innovation centers on flexible mode of communication. Web surfers can now choose whether they want to interact with a thousand chatters at once or with just a chosen group. Chatwing can cater both needs. The most flexible chat widget form is the vanity URL. Users can control the number of participants he wants to interact with. This is an ideal set up for forums where web surfers can be organized based on different topics.
Moreover, Chatwing chat widget increases a websites accessibility rate since it is socially- integrated. Chatwing has a multiple login method, allowing more users to gain access in the chatbox. Social media accounts like Facebook and Twitter are valid log in options. Chatwing chat room also accepts Gmail and Yahoo account infos, giving more web visitors a chance to participate in worthwhile discussions.
Greater visibility and flexibility are not just what Chatwing chat software can offer, easier chat room facilitation and monitoring can also be achieved with its full conversation control feature. Profane words can be automatically deleted out once the word filter has been activated. Web surfers can also block users who are offensive and remove messages that are abusive to other website visitors.
Chatwing.com is committed to enhance the chat box and introduce new features that will contribute to global connectivity and communication flexibility. Chatwing chat app Dev Team is open for suggestions and feedbacks that will help improve the widget.
About Chatwing.com
Chatwing.com specializes in the new field of live website chat software. Over years, the development team has introduced live chat widget for hundreds and thousands of blogs. The application bridges people from many parts of the world, creating global synergy through the Internet. The shout box can be installed in just seconds, and it can be used for varying purposes such as leisure and Internet marketing. It also allows a user to customize the size, color, and name of the widget.