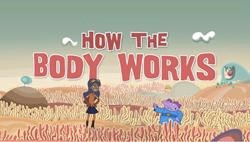 New York (PRWEB) September 19, 2013
Leading animation and transmedia company FlickerLab (http://www.FlickerLab.com) has partnered with KidsHealth.org, the #1 most-visited website devoted to childrens health, to create the new animated series 'How the Body Works with Chloe and the Nurb.' The series offers a playful, animated way for kids to understand how their body works. Eight 5-minute episodes have just launched on the KidsHealth.org website (http://kidshealth.org/kid/htbw/) as the centerpieces of a suite of content that includes quizzes and printable activities, with nine additional episodes to be added in early 2014.
Equal parts Magic School Bus and Monty Python, the series is set in fantastical Bodylandia, where giant eyeballs stride across the landscape, floating noses trumpet daily, and Chloe and the Nurb dive with verve into intestines, ear canals, toenails, and every organ in between.
FlickerLab collaborated closely with the KidsHealth staff to figure out how to convey complex information to an audience of young viewers. All the scripts went through rigorous review by pediatricians and medical experts to ensure the medical accuracy of the illustrations and teaching points.
FlickerLabs philosophy is that effective learning can be a fun, playful, and even silly experience, says Harold Moss, Creative Director of FlickerLab and creator of the series. Working with KidsHealth to create this series has been all those things. The best medical information, lots of room for weird adventures, with the health and well-being of kids always at the forefront.
Flickerlabs Director of Education and Curriculum, Dr. Carla Seal-Wanner, adds: We are delighted to work with KidsHealth due to their exceptional reputation for creating medical content that is accessible to children, parents, teachers and pediatricians to improve the health of our nations children.
Children have lots of questions about how their bodies work and now they have a uniquely entertaining way to get the answers. KidsHealth applauds FlickerLab for delivering so brilliantly on this important project. We know Chloe and the Nurb will help kids understand their bodies and inspire them to live healthy lives, says Neil Izenberg, MD, Founder and Editor-in-Chief of KidsHealth.
FlickerLab and KidsHealth are currently in discussions regarding international distribution opportunities for the animated shorts, as well as exploring the potential for an international co-production of a spin-off broadcast series.
About FlickerLab
FlickerLab is an animation and transmedia company that has generated thousands of hours of award-winning content across all media: for broadcast and film, e-books and apps. FlickerLabs primary focus is to create and develop story universes that easily expand across media platforms and to innovate and transform the technological toolset available to do so. Founded in 1999, FlickerLab is based in Soho, NYC. Visit http://www.flickerlab.com/.
About KidsHealth