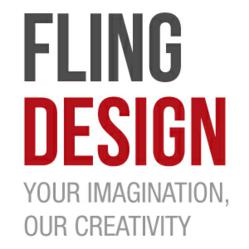 New York, NY (PRWEB) October 24, 2012
Fling Design offers a comprehensive selection of design and marketing solutions geared towards enhancing your companys brand and solidifying your position in a global market.
Fling Design is no longer a one trick pony by any means, theres a distinct understanding that in todays marketplace companies are looking to complete all of their projects in just one place, says Owner & Chief Designer Mark Cruz. With that in mind, the company expanded their solutions to include full multimedia services, custom website and mobile app development, and SEO, while still offering a multitude of graphic design services.
Products and Services arent the only things expanding over at Fling Design, Owner Mark Cruz recently expanded his design and sales team as well, bringing on board Joseph Argula as Sales Coordinator, Nomar Rosa as Multimedia Specialist, and Michael Ung as Senior Designer. Our role is to provide a platform for the continued growth of your business. We aim for that goal by increasing the appeal of your product, service or brand using web design, motion pictures, print design, and social media, says Sales Coordinator Joseph Argula. Ultimately, we are your Branding / Identity Solutions one stop shop. You no longer have to source multiple agencies or companies for your branding needs. You can avoid the hassle and inconvenience and get it all done in one place.
Google recently released some surprising stats, stating an average of 50% of small businesses across America do not have a website, Owner Mark Cruz referred to those stats as Alarming.
For businesses, the internet is a whole new world today. As much as 70% of an average company income can be a direct result of Internet Marketing. Its become our goal to increase the web presence of businesses that have not already exposed themselves to this channel of business marketing, as well as established brands looking to redefine their identity.
With an all new redesigned website, an expert team of designers, and the goal of building long term partnerships, Fling Design is ready for the re-launch of their own brand and are the industry source for all of your identity solution needs.