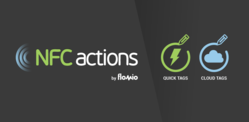 Miami, FL (PRWEB) December 20, 2012
Flomio, a Techstars Cloud Company, with a recent Kickstarter success for the FloJack announced the release their NFC Actions app for Android today. Their approach is disruptive because with Flomio's NFC Actions app, NFC task lists can now be stored in Flomio's NFC Cloud Engine. Tags only need to be provisioned once. If users want to change their NFC tag's programming, they only need to log into their Flomio admin panel, reassign tasks, and they're good to go. Not only does this innovation allow NFC enthusiasts to use smaller capacity, less expensive NFC tags, it also allows full command of NFC tag programming from a central location. Flomio sees NFC Actions as a disruptive move with incredible potential, especially in marketing and event based campaigns.
"If youve been been writing NFC Tags for some time, or youre an enthusiastic newbie to the NFC Party, and all too often you find that some of the more exciting combinations of NFC actions require more space than your NFC tags have to offer," says Tim Ronan, Flomio co-founder and CXO with 18 yrs of design, branding, advertising and marketing experience, "or say you find it cumbersome to physically rewrite your tags every time you want to change a tags tasks, we have another new disruptive NFC innovation for you: NFC Cloud Actions. If your goal is to explore new mediums for brand messaging, this is it. Are we excited? Without question."
Richard Grundy, Flomio founder with more than 12 years of experience developing embedded systems at Motorola, further adds After months of hard work, were proud to announce the release of NFC Actions, the first-of-its-kind native and cloud integrated NFC Actions app for Android.