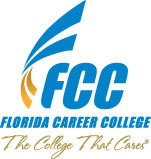 Fort Lauderdale, FL (PRWEB) January 22, 2013
College graduates whose courses of study correlate with a specific field and job skill experience lower unemployment rates than those who graduate with a general degree, according to a study by Georgetown Universitys Center on Education and the Workforce. Fort Lauderdale-based Florida Career College (FCC) specializes in offering curricula that teach practical and applicable skills for specific industries. Through partnerships with national corporations, FCC instructors and executives are forging corporate relationships to give their students a competitive edge in the workforce.
We regularly meet with business executives to uncover the knowledge and skills they seek in new hires and discuss how Florida Career College can prepare students to enter the real world, said Lawrence Avers, Vice President of Student Development for Florida Career College. We are leveraging our business connections and developing new ones to fulfill our mission of successfully preparing graduates for new career opportunities.
Based on its current corporate relationships, Florida Career College has the following three recommendations for how schools and corporations can work together to create an industry-current curriculum:
1.