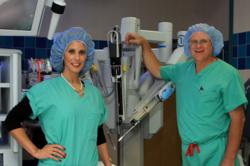 Tampa, Fl (PRWEB) May 14, 2013
Florida Hospital Tampa is among an elite group of hospitals across the United States offering fully robotic Whipple surgery with Dr. Alexander Rosemurgy and Dr. Sharona Ross. The operation, also called a pancreaticoduodenectomy, is the most common surgical treatment for cancerous or benign tumors of the head of the pancreas. Dr. Rosemurgy and Dr. Ross are both advanced laparoscopic and robotic hepatopancreaticobiliary (HPB) and foregut surgeons. They undertook their first robotic pancreaticoduodenectomy on Tuesday, April 30, 2013. The procedure involves removal of the gallbladder, bile duct, part of the stomach and duodenum, and the head of the pancreas. Together, they have undertaken more than 1,600 pancreatectomies, making them among some of the most proficient pancreatic surgeons.
The fully robotic Whipple surgery procedure requires a highly technical skill set that only the most advanced surgeons can carry out with success. The robotic approach enhances the operation with its three dimensional portrayal of the abdominal cavity, assisting the surgeons in making precise dissections. Since the operation employs minimally invasive techniques, patients do not have large scars. This also allows patients who have cancerous masses to start chemotherapy sooner.
A Whipple operation involves removal of the head of the pancreas, gallbladder, bile duct and part of the small intestine. Then the remaining pancreas, bile duct and intestines are reconstructed. This usually requires a large incision to accomplish this. The use of the robot allows us to undertake the Whipple operation using several small incisions, which offers hope for less pain, shorter hospital stay, faster recovery time, and minimal scarring and blood loss, said Dr. Rosemurgy. Patients typically undergo a pancreaticoduodenectomy, or Whipple operation, for masses in the duodenum, ampulla, or head of the pancreas. Advanced surgeons perform the fully robotic Whipple surgery by using the robotic-assisted da Vinci Surgical System made by Intuitive Surgical. During the Whipple operation, Dr. Rosemurgy & Dr. Ross guided the robotic system to make a few small incisions to accommodate the laparoscope and robotic arms to precisely control the movements of the surgical instruments.
Robotic surgery is an innovative technology that is beneficial for certain abdominal operations and diseases. It provides minimally invasive approaches to very complex procedures which results in a quicker return to normal activities and improved patient satisfaction. Robotic surgery is here to stay, said Dr. Ross. The American Cancer Society estimates 38, 460 people have died from pancreatic cancer and an additional 45,220 new cases of pancreatic cancer are expected to be diagnosed this year in the United States. If you would like to learn more about robotic and other minimally invasive procedures visit http://www.SoutheastMinimallyInvasive.com or call (813) 615-7030.
About Florida Hospital Tampa

Florida Hospital Tampa is a not-for-profit 475-bed tertiary hospital specializing in cardiovascular medicine, neuroscience, orthopaedics, womens services, pediatrics, pulmonology, oncology, endocrinology, bariatrics, wound healing, sleep medicine and general surgery including minimally invasive and robotic-assisted procedures. Also located at Florida Hospital Tampa is the renowned Florida Hospital Pepin Heart Institute, a recognized leader in cardiovascular disease prevention, diagnosis, treatment and leading-edge research. Part of the Adventist Health System, Florida Hospital is a leading health network comprised of 23 hospitals throughout the state. For more information, visit http://www.FHTampa.org.
About Alexander S. Rosemurgy, MD

Dr. Alexander Rosemurgy is the Director of the Center for Surgical Digestive Disorders and the Director of the Hepatopancreaticobiliary Surgery Center at Florida Hospital Tampa. The Southeastern Center for Digestive Disorders and Pancreatic Cancer offers robotic and minimally invasive surgeries for a variety of disorders including GERD, achalasia, pancreatic cancer and gallbladder disease. Dr. Rosemurgy did his residency and his research training at University of Chicago. After completing his residency he began his career in Surgery at the University of South Florida (USF). There he was the driving force behind developing a Level One Trauma center at Tampa General Hospital (TGH) and a regional trauma network. He was the Director of the TGH Regional Trauma Center for nearly a decade. In the early 1990s he began to pursue his interests in gastrointestinal surgery and was the Surgical Director of the Digestive Disorders Center at TGH for more than a decade. For more than a decade he has been the Director of a Hepatopancreaticobiliary Fellowship, one of the select few in North America. Dr. Rosemurgy is currently serving as the President of the Southeastern Surgical Congress. He has undertaken more than 1,600 pancreatic resections, has been a lead investigator in over 40 pancreatic cancer trials, has undertaken more than 1,000 antireflux operations, and has more than 300 clinical and scientific publications.
About Sharona Ross, MD

Dr. Sharona Ross is currently the Director of Minimally Invasive Surgery, Director of Surgical Endoscopy, Founder & Director of the FHT Women in Surgery Initiative at Florida Hospital Tampa and the Program Director/Chair of the 2010, 2011, 2012 and the upcoming Annual International Women in Surgery Career Symposium. Dr. Sharona Ross was born and raised in the State of Israel. After her two years of military service in the Israel Defense Forces, she moved to the U.S., where she graduated Phi Beta Kappa and Summa Cum Ladue from the American University in Washington, DC and later Alpha Omega Alpha from the George Washington University School of Medicine and Health Sciences in Washington, DC. Dr. Ross completed her General Surgery residency at the University of South Florida College of Medicine, Department of General Surgery and was later awarded the prestigious HPB/Advanced Gastrointestinal Surgery and Minimally Invasive Surgery Fellowship at USF/Tampa General Hospital. She then completed an Endoscopic Gastroenterology Fellowship at the Division of Digestive Disorders & Nutrition, Department of Medicine University of South Florida. Dr. Ross was one of the pioneers for Laparo-Endoscopic Single Site (LESS) surgery, and continues to develop new techniques and instrumentation to improve its safety and application. As a thought leader in American medicine, Dr. Ross continues to push the envelope in the advancement of Minimally Invasive Surgery.