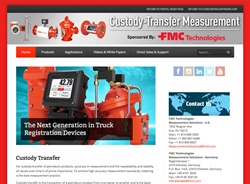 Birmingham, Ala. (PRWEB) April 21, 2015
FlowControlNetwork.com is pleased to announce FMC Technologies as the exclusive sponsor of a new Application Portal on Custody-Transfer Measurement systems.
Custody transfer is the transaction of a petroleum-based or similar high-value product from one owner to another via technological exchange. Knowing how much volume is involved in the transaction is critically important to both the buyer and seller, as both want to ensure theyre providing and receiving a fair transaction. Errors in selecting and applying measurement technology for custody transfer can result in the loss of thousands or tens of thousands of dollars.
FMC Technologies is a leading global provider of technology solutions for the energy industry, including a range of flowmetering technologies for custody-transfer measurement and leak detection. FMC Technologies Custody-Transfer Measurement Application Portal presents a range of materials designed to educate end-users on the different metering technologies appropriate for custody-transfer applications. Materials include white papers, videos, and product information. Featured applications include onshore and offshore production, crude oil transportation, refining, refined product transportation, and marketing terminals and systems.
To access FMC Technologies Custody-Transfer Measurement Application Portal, go here. Other portals currently available on FlowControlNetwork.com include:
> Clamp-On Ultrasonic Flowmeters

> Coriolis Flow & Density Measurement

> Electromagnetic Flowmeters

> Emissions Monitoring

> Meter Verification & Calibration

> Oil & Gas Measurement

> Radar Level Measurement

> Sight Flow Indicators

> Steam Systems Management

> Thermal Flowmeters

> Turbine Flowmeters
FlowControlNetwork.coms Technology & Application Portal program provides sponsored-content microsites focused on specific industrial fluid handing-related technologies, such as flowmeters, level, pressure, pumps, valves, seals, filters, etc., as well as applications, such as emissions monitoring, meter verification & calibration, oil & gas measurement, steam management, etc. The microsites are specifically tailored to provide in-depth coverage of key technology and application segments.
For more information on how to sponsor a Flow Control Application and/or Technology Portal, contact Mike Christian at MikeC(at)GrandViewMedia(dot)com or 908 507-5472.
About FlowControlNetwork.com

FlowControlNetwork.com is the leading source for technical information on fluid handling systems design, operation and maintenance. It focuses exclusively on technologies for effectively moving, measuring and containing liquids, gases and slurries. It aims to serve any industry where fluid handling is