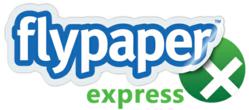 Cincinnati, OH (PRWEB) November 02, 2012
Flypaper Studio, Inc. announces the inclusion of a free 30-day trial of Flypaper Express digital signage software in the new Philips Q Series display. The Philips Q Series is a simple all-in-one digital signage solution, enabling anyone to play back engaging digital signage content using a USB Drive. Customers can use the trial of Flypaper Express to easily create professional-quality digital signage content quickly.
Customers that purchase a 32, 42 or 46 Philips Q Series Edge-lit LED display will receive instant access to a 30-day trial of Flypaper Express. Content created using Flypaper Express can be easily transferred to the Philips Q Series digital display by exporting it to a simple USB. Once content is transferred to the USB Drive, users simply plug the USB into the Philips Q Series for an easy and complete digital signage solution.
Flypaper Express turns PowerPoint into a digital signage content creation engine, said Don Pierson, Founder and President of Flypaper. As a simple PowerPoint plug-in, Flypaper Express enables anyone to design eye-catching content for any audience, without learning a new system. Paired with the Philips Q Series, this is truly an all-in-one solution.
As a PowerPoint plug-in, Flypaper Express empowers anyone to develop high quality digital signage content without requiring programming skills. Philips Q Series users can take advantage of new themed templates to kick-start digital signage projects for industries including hospitality, healthcare, education, retail and more.
Flypaper Express is a powerful content creation tool, yet the software is easy to use, said Craig Rathbun, Managing Director of MMD North America, exclusive licensee for Philips Commercial Signage. The Philips Q Series display combined with Flypaper Express makes it easy for all users to efficiently and affordably create, manage and maintain full-fledged digital signage applications.
The Philips Q Series, including the free trial of Flypaper Express, is now available in the United States and Canada. For more information on the new Philips Q Series and Flypaper Express, visit http://www.Flypaper.com/Philips.
About Flypaper Studio, Inc. and Trivantis Corporation

Flypaper Studio, Inc. is a wholly-owned subsidiary of Trivantis Corporation. Flypaper produces the leading content creation platform that empowers programmers and non-programmers alike to create, edit, share, track and reuse high-impact interactive and motion graphics video content. The Flypaper platform allows anyone to edit and manipulate components without touching programming code. Trivantis also produces Lectora