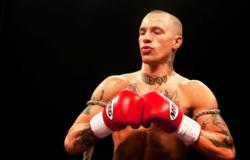 Elkridge, MD (PRWEB) July 03, 2013
On the heels of its first Muay Thai victory in Thailand, Crazy 88 Brazilian Jiu-Jitsu has announced today a two day seminar series occurring on July 31 a series of training sessions hosted by Kevin Ross. Kevin "The Soul Assassin" Ross is an American Muay Thai kickboxer fighting out of Las Vegas, Nevada. He is currently Ranked #14 in the world by the WBC for Muay Thai in the Super-Lightweight Division (140 lbs, 63.503 kg). Among Kevins achievements so far are the Super light weight (140 pounds) WBC International championship Title, the Welterweight (147 pounds) WBC USA National championship Title, the FIDAM Welterweight championship of Mexico and the United States Muay Thai Federation (USMF) Welterweight champion.
Kevin Ross is one of Americas top Muay Thai fighters. He has been fighting for almost a decade now and has been in the ring competing against the best in the World. I really wanted to bring someone in who would be able to give the perspective of someone who has been there, done that. One of our pro MMA fighters made the connection with Ross while they were both training at the same gym in Thailand, and that got the ball rolling, said Julius Park, Head Coach, Crazy 88 Brazilian Jiu-Jitsu.
Using Crazys largest 15,000 square foot location, attendees will be able to attend the informative seminar without overcrowding. Day one of the seminar will focus on techniques and training systems for everyone, from novices to more experienced students. Day two of the seminar will be geared towards helping the fighters, coaches, and the more experienced students.
The coaches have met and have some topics we would like Kevin to cover but we will also be polling the students to see what areas they have questions about. Kevin has been very accommodating and will adjust his teaching to the audience, Coach Park stated.
The seminar will be pre-registration only.
About Crazy 88 Brazilian Jiu-Jitsu

Established in 2005, Crazy 88 Brazilian Jiu-Jitsu offers Mixed Martial Arts training to all ages and levels in the Baltimore area. Classes are offered for complete beginners to Professional fighters in Mixed Martial Arts, Brazilian Jiu-Jitsu, and Muay Thai Kickboxing. For aspiring athletes or individuals who just want to get a better physique, Crazy 88 offers a 30 Day All-Class Pass free of charge.
For more information about the Howard County Location (Elkridge MD), see http://www.Crazy88BJJ.com.
For more information on the Baltimore County Location (Owings Mills MD), see http://www.BaltimoreMixedMartialArts.com
For more information on the Frederick County Location (Frederick MD), see http://Frederick.Crazy88BJJ.com