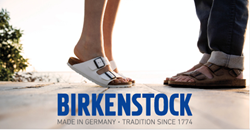 Sunnyvale, CA (PRWEB) April 27, 2015
Footwear etc. is now selling some of the newest and hottest trending Birkenstocks of the spring 2015 line. The brand has strong customer loyalty and has recently seen a resurgence as blogs, celebrities and news channels have brought a lot of attention to Birkenstock. Beyond the comfort, customers are responding positively to the new colors and styles Footwear etc. is carrying for spring 2015.
The well-known cork footbed still appears in new styles, however Birkenstock has given consumers the option of their traditional firm footbed or a soft footbed. Both footbeds feature spacious toe room, and contour to the shape of the foot. They also feature a deep heel cup helps keep the wearer's spine in alignment, a shock absorbing sole, jute fibers to add strength and wick away moisture, and a suede footbed liner to keep feet comfortable and dry. The soft footbed adds an additional layer of cushioning foam into the footbed.
The long-awaited wedge from Birkenstock is here: the Women's Alyssa Grateful. This wedge sandal is available in Licorice or Toffee. This new style from Birkenstock has an adjustable metal buckle ankle strap and is versatile.
The incredibly popular Gizeh sandal is now available in some gorgeous new colors like Mirror Green, Mirror Pink, Magenta Steel, Silver, Black and Golden Brown. This particular sandal has proven to be one of the most popular styles in the entire Birkenstock line for spring 2015, and is popular among celebrities as well.
The iconic Arizona is seeing a spike in sales with the release of new colors, white being one of the most featured and popular of the Arizona sandals.
District Manager Andrew Monarch adds, "We are pleased to offer Birkenstocks online as well as in our stores. It's incredible to see a brand like Birkenstock come back as such a hot trend in footwear."
Products from Birkenstock are available in Footwear etc.'s retail stores as well as online at footwearetc.com.
About Footwear etc.:

Footwear etc. is a well-established, family-owned business, headquartered in Silicon Valley, CA since 1986. The company is committed to improving customers quality of life by offering brand name products that demonstrate their belief in the need for healthful, comfortable and fashionable footwear. Footwear etc. operates eleven retail stores located throughout the Bay Area and San Diego, and also offers their products on their Google Trusted website and catalog. To find out more, please visit http://www.footwearetc.com.