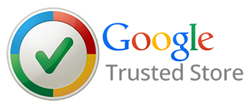 Sunnyvale, CA (PRWEB) May 25, 2015
California-based comfort shoe retailer, Footwear etc., which offers a wide variety of brands of comfort shoes, socks, insoles, accessories, and foot health products, was recently selected to join the Google Trusted Stores program. To help shoppers identify online merchants that offer a great shopping experience, the Google Trusted Store badge is awarded to e-commerce sites that demonstrate a track record of on-time shipping and excellent customer service. When visiting the Footwear etc. website, shoppers will see a Google Trusted Store badge and can click on it for more information.
District Manager Andrew Monarch adds, Footwear etc. is proud to be recognized as a Google Trusted Store. We have prided ourselves on our outstanding customer service and quality inventory, and are very happy to have formal recognition of the excellent job we provide for our customers.
As an added benefit, when a shopper makes at a Google Trusted Store, they have the option to select free purchase protection from Google. Then in the unlikely event of an issue with their purchase, they can request Googles help, and Google will work with Footwear etc. and the customer to address the issue. As part of this, Google offers up to $ 1,000 lifetime purchase protection for eligible purchases.
Google Trusted Stores is entirely free, both for shoppers and for online stores. The program helps online stores like Footwear etc. attract new customers, increase sales and differentiate themselves by showing off their excellent service via the badge on their websites.
About Footwear etc.:

Footwear etc. is a well-established, family-owned business, headquartered in Silicon Valley, CA since 1986. The company is committed to improving customers quality of life by offering brand name products that demonstrate their belief in the need for healthful, comfortable and fashionable footwear. Footwear etc. operates eleven retail stores located throughout the Bay Area and San Diego, and also offers their products on their website and catalog. To find out more, please visit http://www.footwearetc.com.