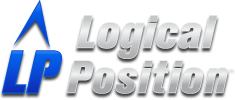 Beaverton, OR (PRWEB) January 09, 2012
Logical Position (LP), a full-service digital marketing firm announces its newest service, TotalLink Online, the first of its kind to be launched in Ore. TotalLink Online is a semi-automation tool that offers customizable online advertising programs in Google, Bing and Yahoo! all in one place.
The tool lowers setup and management fees by allowing clients to complete much of the work themselves. However, all keywords, bids and creative are reviewed by LPs certified Google AdWords and Microsoft specialists providing advanced strategies, like sophisticated bidding and match-type selection, not typically available to clients with lower budgets. This offers a new solution for businesses to increase their visibility online and further enhance their marketing goals.
TotalLink Online is a unique solution that takes only one-quarter of the time and one-fiftieth of the knowhow to complete compared to trying to use Google AdWords and Microsoft adCenter on your own, said Mike Weinhouse, founder/co-CEO of LP. It is pay-per-click (PPC) management that anyone can start and well finish for you, so you can focus on your business and what you do well.
A strong benefit of PPC marketing is the ability to track it. TotalLink Online provides tracking and reporting for Google, Bing and Yahoo! in one user-friendly interface. Campaigns can then be made more effective by using the robust data that is available to the TotalLink Online user.
About Logical Position
Logical Position (LP) is a full-service digital marketing firm offering an entire suite of tools and services to help businesses build and increase their online visibility. Founded in 2010, the firm experienced 400 percent revenue growth and 300 percent employee growth in 2011 despite recession challenges. The firms 45 full-time employees offer search engine optimization, social media marketing, pay per click (PPC) marketing and website design to nearly 600 clients.
For more information visit http://www.logicalposition.com and http://www.facebook.com/LogicalPosition.
###