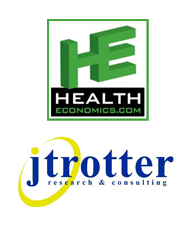 Ponte Vedra Beach, FL (PRWEB) February 19, 2014
Important trends and issues in the development and dissemination of real-world evidence in medicine will be explored in the latest version of the well-respected Survey 2014: Real-World Evidence Challenges and Opportunities (Survey 2014), launching on March 9, 2014. HealthEconomics.Com and J Trotter Research & Consulting are once again collaborating on an updated version of their survey which has tracked trends in real-world evidence over the past five years. Real-world evidence development is one of the fastest growing areas of research, given the increasing demands of payers, regulators, physicians and patients for post-approval tracking of medication effectiveness, safety, and value. Survey 2014 will be open for participation to the 20,000+ readership of HealthEconomics.Com and related social networking sites for health economists, outcomes researchers, epidemiologists, drug and device developers, product marketers, regulators, payers, and providers. Results from Survey 2014 will be available in May.
Controversies abound relating to the fundamental strategic need for real-world data, as well as to the quality of this evidence, stated Jeff Trotter, Principal of J Trotter Research & Consulting. Previous surveys on related topics have all indicated the importance of operational planning and organizational consensus between the stakeholders who design and implement these studies, and with those who are dependent upon the results. We expect this survey to provide truly compelling insights to help maximize the value of real-world evidence.
Patti Peeples, CEO of HealthEconomics.Com, noted that the demand for data reflecting the real-world value of medical technologies has grown exponentially over the past several years, yet there is always a question about how these data are derived and whether the results are valid. We believe this survey will be an essential vehicle in providing clarity to a very complex situation. We are delighted to work with Jeff Trotter and his team, leaders in the field of real-world research, in bringing these insights to the industry.
The approximately 35-question survey will offer an iPad mini device to each of five randomly selected participants to further motivate participation. Findings will be presented via sponsored podcasts, panel discussion, and webinars provided in HealthEconomics.Coms newly launched HE-Xpo