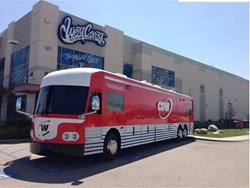 Denver, CO (PRWEB) July 28, 2013
FORETHOUGHT.net announced today that it will host the CDW Technoliner in conjunction with Spiceworks August 15 from 4:30-8:00pm at its corporate headquarters on 2347 Curtis Street, Denver, Colorado.
CDW outfitted the 48-foot Technoliner is the first mobile unit that incorporates a stadium-grade video system, high-density Wi-Fi network technology and a retractable 14-foot video wall. The Technoliner allows attendees to experience CDWs IT solutions portfolio and better understand how these technologies can successfully help their organizations. Technology demonstrations are interactive and navigated through large touch screen panels.
FORETHOUGHT.net led by computer networking and telecommunications expert, Jawaid Bazyar, says FORETHOUGHT.net is delighted to host this epic event that showcases CDW capabilities. We are proud supporter of Spiceworks and IT professionals. FORETHOUGHT.net provides voice and data to all types of businesses and continuously works closely with IT professionals to help implement the right network solutions.
The CDW event is open to all Denver IT customers, professionals and enthusiasts. It will take place August 15 starting at 4:30pm in Curtis Park. To learn more about future FORETHOUGHT.net events fan us on Facebook at http://www.facebook.com/FORETHOUGHT.net
The CDW Technoliner brings CDWs winning on the road concept to life. Learn more at http://www.winningontheroad.com.
To learn more about FORETHOUGHT.net capabilities and services, go to FORETHOUGHT.net or contact us directly at 303-815-1125.
###
About FORETHOUGHT.net

Since 1995, FORETHOUGHT.net is a locally owned and operated Internet, cloud and communications service provider, offering a portfolio of enterprise-level cloud hosting, colocation, Internet, voice and data solutions for Colorado businesses and is focused on providing Internet speeds that work for Colorado.
The Denver Business Journal ranked FORETHOUGHT.net as a Top 15 Telecommunications Company and a Top 15 Internet Service Provider. ColoradoBIZ Magazine listed it as one of Colorado's Top 250 Private Companies. BBB.org accredited A+ member.
Patricia Kelly

FORETHOUGHT.net

+1-303-815-1823

Patricia.Kelly(at)FORETHOUGHT.net