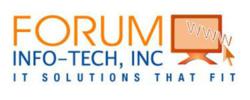 Corona, CA (PRWEB) March 22, 2013
Forum Info-Tech, Inc. I.T. Solutions that FIT, today announced it has achieved a Silver Microsoft Midmarket Solutions and Devices and Development competency, demonstrating its ability to meet Microsoft Corp. customers evolving needs in todays dynamic business environment. To earn a Microsoft silver competency, partners must successfully demonstrate expertise through rigorous exams, culminating in Microsoft certifications. And to ensure the highest quality of services, Microsoft requires customer references for successful implementation and customer satisfaction.
Forum Info-Tech Inc. is an established nationwide provider of Managed Cloud Services under its flagship brand LevelCloud. Our years of proven experience with Microsoft, Citrix, Vmware and other enterprise technologies has allowed us to architect solutions that are both cutting-edge, budget friendly and more importantly bring value for our clients. From doing IT projects for firms with IT Departments to providing IT Department as a service for companies that lack one, we have solutions and services that can benefit any progressive organization. Our engineering teams are always testing new products to see how we can provide our services cheaper, better and faster than our competitors. This would not be possible without the Midmarket Solution Provider Competency. Getting hands on latest products before they release allows our engineers to have a head start and be ready when the launch.
"Our Clients expect us to test and implement new products and technologies that can help their business. Having a Mid Market Solution Provider Competency assures our clients that they are getting the best and cutting edge technology that Microsoft has to offer. It also proves our expertise in some of the products like Windows Server 2012, System Center, Hyper-V, Windows 8, SQL Server 2012 and Office 365.
With the help of this competency, Forum Info-Tech, Inc. is able to integrate these and other technologies to provide a complete turn-key cloud solution for our clients." says Biren Shukla, CEO of Forum Info-Tech, Inc.
By achieving a silver competency, organizations have proven their expertise in specific technology areas, placing them among the top 5 percent of Microsoft partners worldwide, said Jon Roskill, corporate Vice President, Worldwide Partner Group at Microsoft Corp. When customers look for an IT partner to meet their business challenges, choosing a company that has attained Microsoft competencies is a smart move. These are highly qualified professionals with access to Microsoft technical support and product teams.
Attaining the Midmarket Solution Provider Competency demonstrates partner expertise in the most current infrastructure solutions based on Microsoft desktop, business-management and server technologies. Equipped with exclusive training, the latest software and support, partners are able to implement solutions to meet Midmarket customers unique business challenges and infrastructure needs.
Attaining the Devices and Deployment Competency demonstrates partner expertise in designing, deploying and supporting desktop solutions based on the latest Windows 8 operating system and on other products like Windows 7, Microsoft Desktop Optimization Pack and Microsoft Office productivity software. Equipped with exclusive training, the latest software and support, partners help their customers focus on the business instead of the technology. As many customers begin their migration in 2013 from earlier platforms like Windows XP, earning the Devices and Deployment competency helps partners capture this unprecedented market momentum and act as a trusted technology adviser to their customers, helping them through a successful migration. In addition, Windows 8 brings new capabilities and enables a wide range of scenarios (bring your own device, mobile workforce support, portable work space) that require additional solution partner support to implement.
The Microsoft Partner Network helps partners strengthen their capabilities to showcase leadership in the marketplace on the latest technology, to better serve customers and, with 640,000 Microsoft partners in their ecosystem, to easily connect with one of the most active, diverse networks in the world.
Forum Info-Tech is the provider of choice when businesses need honest, budget-friendly solutions and consulting advice on when to move their business to the cloud or not. We are not in the business of pushing products to earn trips and rebates but focus on technologies that will change how our clients interact with technology in their business, improve their workflow and processes which ultimately results in employee satisfaction and improved productivity. Forum Info-Tech, Inc. is headquartered in Corona, CA with clients throughout the United States in various verticals like Legal, Manufacturing, Logistics and Distribution, Healthcare, Insurance and Services Industries.
For more information, press only:
Biren Shukla, Forum Info-Tech, Inc. 951-256-4070, Biren(at)foruminfotech(dot)net