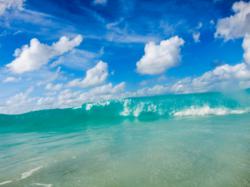 Anguilla, BWI (PRWEB) July 24, 2012
Anguilla-Beaches.com's "Picture Anguilla!" photo contest pulled in nearly 250 entries, and 500 unique vacation photos.
The prize was big, the concept was simple. Share your best Anguilla photos to win a $ 3,000 trip to the secluded Caribbean island.
Visitors from across North America and Europe submitted their visual definition of what it means to love Anguilla. The result? A mosaic of memories and moments that captures Anguilla's beauty and culture.
Following the submission period, contestants were given one week to gain social support for their entries via Facebook votes and comments and Pinterest activity to help secure a win. Total number of votes and overall reach of the contest entries were in the thousands.
"Adding a social sharing component to 'Picture Anguilla!' enhanced the viral spread of these special photos," explains Nori Evoy founder of Anguilla-Beaches.com, the most visited website in the world about Anguilla. "This takes exposure of Anguilla to new heights!"
The winning entry was determined this week by Anguilla-Beaches.com and the contest's generous sponsors. Sponsors include: Carimar Beach Club (providing a 6 night/7 day stay), Anguilla Air Services (connecting airfare), and restaurants Straw Hat, daVida, Blanchards, Tasty's, Mango's and Palm Grove (one five-star dinner each).
Judges weighed each entry's social support and the quality of the photo/description.
After great deliberation Gregory Smith from Toronto, Canada was was declared winner of "Picture Anguilla!", and was given the title of shooting the best Anguilla vacation photo.
Captured on a CanonS90, Gregory's photos demonstrate a high level of technical ability. His submission, "Three Views of the Same Sea", show different perspectives of Anguilla's waters. Gregory powerfully captured that which makes Anguilla, Anguilla… the seas that surround it.
Gregory's submission was also amongst the Top 10 of contest entries that received the highest number of votes. He had strong social support.
When notified, winner Gregory Smith exclaimed, "I can't believe it! I've been day dreaming about coming back since I left! I don't know what to say except thank you very much. I'm deeply honored and touched to have my pictures selected amongst so many beautiful images. Anguilla is a magical place, I can't wait to shoot it again!"
He won't have to wait long. Gregory will soon return to the island to redeem his prize during Anguilla's always tranquil off-season.
"Picture Anguilla!" was fun for all contestants and raised the profile of the 39 square mile island, putting it in front of thousands of new eyes. Anguilla-Beaches.com plans on holding its third large-scale contest later this year.
"Picture Anguilla!" contest submissions can be viewed here: https://apps.facebook.com/contestshq/contests/245880/voteable_entries?view_entries=1